Versatile, Quick-Change Tray Sealer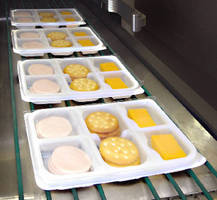 Seal almost any shape or size tray using the compact Ishida QX tray sealer. Tooling can be exchanged in minutes using a portable cart that eliminates lifting. Ishida's Intelligent Tool function automatically recognizes the correct tooling for each
product preset for fast, accurate changeovers. Ishida's user-friendly touch screen
control stores all operating configurations for each filler and tray.

Models are available for medium speed manual loading or fully automated sealing
of up to 200 trays per minute. MAP functions include gas flushing, vacuum-gassing, or
seal-only operation. Integrate the tray sealer with up to five fillers.

To simplify sanitation, Ishida QX tray sealers are self-draining and have no inaccessible areas. Conveyors and belts can be removed without using tools. Additional features are available to configure the tray sealer for liquid products,
printed film, checkweighing, metal detection and labeling.

Heat and Control provides one-stop service for the complete packaging line
including the tray sealer, conveyors, weighers, fillers, inspection and labeling
equipment. For more information and a demonstration, please contact
Heat and Control at info@heatandcontrol.com, or www.heatandcontrol.com.

More from Chemicals & Gases