VDO RoadLog Certified to Meet Compliance Requirements for the FMCSA ELD Mandate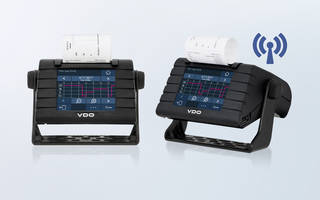 • VDO RoadLog ELD (VDORoadLog.com) offers built-in printer; no monthly fees or contracts
Allentown, PA April 24, 2017. Continental, a leading global supplier of systems, components and tires to automobile, truck and bus manufacturers, and a world leader in Electronic Logging Device technology, has announced that its two innovative electronic logging devices, VDO RoadLog™ ELD and VDO RoadLog ELD Plus, meet compliance requirements for the FMCSA ELD Mandate that becomes effective December 18, 2017. VDO RoadLog has been self-certified by Continental and is listed on the FMCSA list of "Registered ELDs."
VDO RoadLog ELDs are certified to meet the technical specifications set forth in the ELD rule (49 CFR 395, Subpart B). According to Alexis Capelle, Continental Corporation ELD program manager, "VDO RoadLog is not only in 100% compliance with the current FMCSA rule, but also will stay in compliance as the rule's technical specifications change in the future. Continental will continue to provide free, on-going software upgrades to meet future regulatory requirements as they are released by FMCSA."
VDO RoadLog ELDs and software meet the rule's standards for hardware, software, connectivity methods and integration with the vehicle's engine, as well as tamper-resistance. VDO RoadLog is compatible with both modern CAN-bus vehicles and older vehicles with no data ports.
A breakthrough in log automation, VDO RoadLog ELD is one of the first stand-alone ELDs available in North America. It features a built-in printer that prints out the driver's log at the push of a button. And, unlike many other systems, the VDO RoadLog ELD is available with no monthly fees or contracts. VDO RoadLog offers a plug-and-play solution for compliance reporting that's easy to use. It combines GPS data with input from the vehicle to create a digital log that the driver can either download or print out on the spot, as needed.
VDO RoadLog's self-contained, built-in thermal printer produces a traditional logbook graph in the same 'grid style' as the paper logbooks that inspection officials are accustomed to seeing. The VDO RoadLog printout avoids the uncertainties of trying to transfer ELD data to compliance officers. The printout also eliminates the need to hand over a smart phone or have the compliance officer climb onboard to read an ELD screen. With VDO RoadLog, drivers can get through inspection stops in a fraction of the time it took with hand-written paper logs. With VDO RoadLog, drivers can be confident that their logs are always up-to-date.
VDO RoadLog can deliver the right ELD compliance solution for any owner operator or fleet operation. VDO RoadLog makes compliance easy and affordable – now and in the future. It provides fast and easy recording and reporting for Logs, IFTA, IRP and pre- and post tip inspections. And, once uploaded, the data is automatically archived and backed up online.
Online compliance reporting and fleet management
The VDO RoadLog ELD suite of products now includes VDO RoadLog Office™, an online fleet management and compliance-reporting tool. RoadLog Office is available with fleet management and reporting features previously found only in enterprise-level systems. VDO RoadLog Office capabilities include track & trace mapping, driver/vehicle monitoring, automatic log auditing, remote driver HOS availability, text-based messaging and remote monitoring and management of drivers, vehicles and loads.
VDO RoadLog is backed by Continental, a global leader in regulatory compliance systems, with over five million Electronic Logging Devices installed worldwide. With more than 80 years of experience in the transportation industry, Continental develops and produces products that make trucking safer, cleaner and more fuel-efficient.
For more information, visit: www.vdoroadlog.com or contact: roadlog-sales@vdo.com.
Continental develops intelligent technologies for transporting people and their goods. As a reliable partner, the international automotive supplier, tire manufacturer, and industrial partner provides sustainable, safe, comfortable, individual, and affordable solutions. In 2016, the corporation generated sales of €40.5 billion with its five divisions, Chassis & Safety, Interior, Powertrain, Tire, and ContiTech. Continental currently employs more than 220,000 people in 56 countries.
Information management in and beyond the vehicle is at the very heart of the Interior division. The product portfolio for different types of vehicles includes: instrument clusters, multifunctional and head-up displays, control units, access control and tire-information systems, radios, infotainment systems, input devices, control panels, climate control units, software, cockpits as well as services and solutions for telematics and Intelligent Transportation Systems. The Interior division employs more than 43,000 people worldwide and generated sales of approximately €8.3 billion in 2016.
Within the Interior Division the Commercial Vehicles & Aftermarket Business Unit accommodates the specific requirements of the commercial vehicle, special vehicle and aftermarket sector. A global network of sales and service companies ensures proximity to local customers. Covering the product brands Continental, VDO, ATE, Galfer and Barum the Business Unit offers web based managed services, fleet management and tachograph solutions electronic products, systems and services for commercial and special vehicles, a broad selection of products for specialized workshops and spare parts for the Independent Aftermarket and the Original Equipment Services after end of series production of the vehicle manufacturer.
Contact for journalists:
James McCarthy
Continental Interior / Commercial Vehicles & Aftermarket
6755 Snowdrift Road,
Allentown, PA 18106
Tel: 610 289 0488, ext. 3024,
Fax: (610) 289-1766
Email: James.McCarthy@continental-corporation.com
More from Agricultural & Farming Products