VDO Cooling Fan Assembly Program Delivers OE Fit, Form and Function for Over 244 Million Vehicles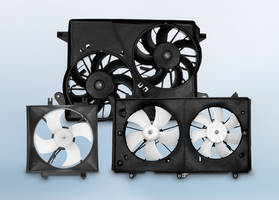 Excellent application coverage offered for popular late models
Allentown, PA 10 May 2017. Continental Commercial Vehicles & Aftermarket, a leading and trusted aftermarket supplier of OE-engineered aftermarket parts for HVAC and engine cooling, door systems, brake systems, tire pressure monitoring systems, engine management, fuel systems and instrumentation, has expanded its full line of world-class VDO Cooling Fan Assemblies and offers coverage for over 244 million U.S. registered vehicles.
Delivering a broad range of applications for domestic, Asian and European makes, the program now encompasses an overall lineup of over 1,000 OE-quality, fan assembly part numbers.
VDO Cooling Fan Assemblies deliver exceptional OE quality and profitability. They save labor and are designed for an easy install right out of the box with no assembly required. All VDO fans are built with all new components in ISO/TS certified facilities, tested to OE specs for vehicle-specific fit and function, and manufactured to the same precision and quality standards as OE components supplied by Continental to automakers worldwide.
According to Christina Bergstrom, Senior Product Manager, engine cooling is a crucial component for proper vehicle performance, especially during the hot summer months. VDO Cooling Fan Assemblies are designed to meet specific vehicle cooling characteristics. Each fan is constructed with 100% pure plastic resin compounds to ensure superior durability and thermal stability. The fans also feature VDO exclusive "Dual Bearing" design for quieter and more efficient motor operation. They are also precision-assembled and balanced for vibration-free operation.
For more information, visit: www.vdo.com/usa or contact: salessupport-us@vdo.com.
Continental develops pioneering technologies and services for sustainable and connected mobility of people and their goods. Founded in 1871, the technology company offers safe, efficient, intelligent and affordable solutions for vehicles, machines, traffic and transport. In 2016, Continental generated sales of €40.5 billion and currently employs more than 227,000 people in 56 countries.
Information management in and beyond the vehicle is at the very heart of the Interior division. The product portfolio for different types of vehicles includes: instrument clusters, multifunctional and head-up displays, control units, access control and tire-information systems, radios, infotainment systems, input devices, control panels, climate control units, software, cockpits as well as services and solutions for telematics and Intelligent Transportation Systems. The Interior division employs more than 43,000 people worldwide and generated sales of approximately €8.3 billion in 2016.
Within the Interior Division the Commercial Vehicles & Aftermarket Business Unit accommodates the specific requirements of the commercial vehicle, special vehicle and aftermarket sector. A global network of sales and service companies ensures proximity to local customers. Covering the product brands Continental, VDO, ATE, Galfer and Barum the Business Unit offers web based managed services, fleet management and tachograph solutions electronic products, systems and services for commercial and special vehicles, a broad selection of products for specialized workshops and spare parts for the Independent Aftermarket and the Original Equipment Services after end of series production of the vehicle manufacturer.
Contact for journalists:
Andrea Daube
Marketing Communications Specialist
Continental
Interior / Commercial Vehicles & Aftermarket
6755 Snowdrift Road,
Allentown, PA 18106
Tel: (610) 289-0488 ext. 3217,
Fax: (610) 289-1766
Email: andrea.daube@continental-corporation.com
More from Sensors, Monitors & Transducers