VarTech Systems Inc Launches ThinManager Ready Thin Client Product Line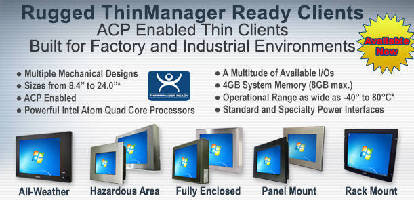 Baton Rouge, Louisiana – Ruggedized Panel PC & LCD/Computer manufacturer VarTech Systems Inc., announces the launch of its new Thin Client product line. These new ACP enabled Thin Clients expand on VarTech's hardened product line-up, and extend centralized management to many industrial computing environments.



Richard Lachney, President of VarTech Systems, said: "VarTech Systems looked to ACP to supply an integrated platform to match a wide variety of customer requirements. As more businesses move users to virtual computing, we responded by combining our leading edge hardware with their innovative automation control products. We are extremely excited to partner with ACP to offer a diverse range of models with a long list of features."



Available mechanical configurations include Panel Mount, Fully-Enclosed, Rack Mount, Wall/VESA Mount, Small Form Factor, and VarTech's popular All-Weather IP67 rated line. Thin Client capable Fully Sealed & Panel Mount C1D2 certified hazardous area LCD/Computers, and C1D1 Purge Workstations round out this new line of ThinManager Ready products. Standard sizes range from 8.4" to 20.1" and widescreen formats in 12.1", 17.3", 21.5" & 24.0" sizes.



All Thin Client models include fast Intel Atom Quad Core Processors, configurable to 8 GB system memory, wide operational temperatures, a multitude of  I/O's, and standard power interfaces of 110/220VAC or 9-32VDC. Specialty power interfaces are also available.



Each Thin Client unit features VarTech's ruggedized industrial grade construction and revision controlled components, designed to meet NEMA 4/4X ratings and a sustainable, scalable ThinManager Ready platform.



Additionally, customers can incorporate VarTech's long list of available options to tailor a model to meet your specific needs.



VarTech Systems Inc, now in its 28th year, is a build-to-order, specialty manufacturer of high performance, ruggedized industrial grade computers, display systems and thin clients. Primary markets served are Military & Aerospace, Industrial & Commercial, Marine, Oil & Gas, Food Manufacturing & Power Generation & Distribution and Process Control. Headquartered in Clemmons, NC, VarTech Systems currently has several manufacturing locations and multiple service centers nationwide. For a full list of features and more information about VarTech's new line of ThinManager Ready Clients, please visit http://www.vartechsystems.com/products/thinclient/thinmanagerready.asp or www.vartechsytems.com.



Related