VarTech System's Hazardous Area Non-Purged C1D2 LCD Panel PC Computers Now Available with the Latest Intel I Core Processing Technology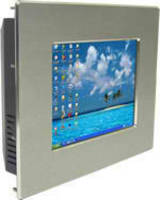 VarTech Systems Inc. has announced that their ToughStation Hazardous Area Non-Purged C1D2 Panel PC computers are now available with the latest, powerful Intel i3 and i5 Core processing technology. VarTech's hazardous area LCD workstations are engineered for Class 1 Division 2 environments such as oil rig drilling, underground and surface mining, chemical processing, pharmaceutical and food processing. These industries can now benefit from the latest in computing technology by incorporating the fastest and most powerful processors into their industrial and hazardous area applications.

VarTech's ToughStation C1D2 Certified Hazardous Area Panel PC Computers feature Class 1 Division 2 Hazardous Area Testing and Certification by an Independent Agency, a Bright Active Matrix TFT Display, Intel's T4500 2.30 GHz 800MHz FSB Intel Dual Core Processor (Optional Intel i3 or i5 Core Processor), NEMA 4X (IP66) Stainless Steel Construction and a Wide Operational Temperature Range, -10°C to +60°C (14°F to +140°F).

VarTech's ToughStation Hazardous Area fully enclosed LCD Workstations and Panel PC computers are applicable as rig floor computers withstanding the harsh environments presented by oil drill rigs in situations such as hydraulic fracturing or fracking, directional drilling, hydrocarbon well logging or mud logging, catalytic cracking and crude oil / petroleum refinery. They are also designed for the extreme conditions of underground mining including but not limited to distribution mining as well as production mining. These non-incendive LCD workstations and Panel PCs ensure explosion proof protection in underground mining environments where coal dust and other combustible materials are present in an enclosed atmosphere. They are built to resist the rugged conditions as well as shock and vibrations inherent in strip mining, surface mining, open-pit mining and mountaintop removal applications. These units can also serve in both chemical engineering and processing industry areas involving vapor recovery, corrosive chemical solvents, plastic or polymer production and fixed bed reactors. They are certified for Class 1 Division 2 areas where gas, ignitable vapors or flammable dust may be present. The fully stainless steel NEMA 4X (IP66) enclosure also makes them suitable for pharmaceutical applications where the prevention of dust and waste build up is necessary to ensure a clean sterile environment. The Non-incendive construction of this line of hazardous area LCD workstations makes them appropriate for use in food processing applications where grain dust is present and corrosive cleaning elements and wash-down computing is necessary.

For more information on the Class 1 Division 2 Certified ToughStation Series Hazardous Area LCD Panel PC Computers or Fully Enclosed Workstations as well as VarTech's line of intrinsically safe keyboards, please visit our website.


More from Controls & Controllers