US Patent Awarded for Select Fabricators' Operable Interface Shielded Enclosure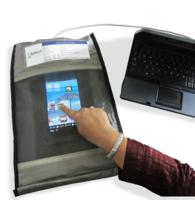 Canandaigua, NY February 28, 2017: The second of three patents awarded to Select Fabricators, Inc. (Winch et al.) is for "Electromagnetically Shielded Enclosure with Operable Interfaces". The patented, US Patent No. 8,723,053 B2, enclosure has operable interfaces including a tactile interface through the shielding material and/or a shielded mesh window to operate devices with a touch screen. There is an input/output plate with filters that allow signals and power to be brought into or out of the enclosure providing a connection to the secured electronic device.
Select Fabricators' invention is an electromagnetic enclosure that is compact, easily portable, and allows access and operation of the device while contained in the enclosure.
The patented technology includes:
A pouch made of RF shielding material. Select Fabricators, Inc. uses NovaSelect™ silver/copper/nickel plated nylon ripstop fabric.
A RF shielded tactile window that allows the electronic device placed inside the pouch to be manipulated. A window perimeter seal electromagnetically joins the pouch and the RF shielded tactile window to prevent leakage.
An internal frame that accommodates the electronic device and creates a trampoline style structure that maintains space from the tactile window to the device's touch screen to isolate contact points on the touch screen for proper touch screen operation.
A fastener system, of a double fold flap and conductive hook and loop creates a RF tight seal when the pouch is closed.
An input/output assembly located on a side of the pouch with a RF filter assembly that can be connected to the device inside the pouch. Connectors which can be specified include a USB, data, power and charging, and RF connectors, however the specific connector types and quantities may change depending on the application of the enclosure.
Select Fabricators has also received approval for two additional patents and has one patent under reviewed. The doors for its shielded tent enclosures are covered under US Patent No. 8,530,756, Double Door, Single Magnet Closure System and US Patent No. 9,029,714 Single Door, Double Magnet Closure System. In the summer of 2016, SFi applied for a patent for its Modular Electromagnetically Shielded Enclosure, which is pending.
Corporate Information
Founded in 2000, Select Fabricators, Inc. excels in industrial solutions including RF shielded enclosures, pouches and curtains, custom sized cleanroom bags, Mil-Spec bags, aerospace covers, industrial barrier and containment bags, and forensic RF isolation pouches and tents. With capabilities including industrial sewing, heat sealing, ultrasonic welding, pad printing, and cleanroom operations, SELECT delivers a wide array of solutions to the aerospace, forensics, homeland security, law enforcement, industrial, medical, military and wireless communications industries.
Select Fabricators, Inc., a privately owned company, is conveniently located in Canandaigua, NY USA near major transportation routes including the NYS Thruway. SELECT's main facility consists of over 19,000 square feet of flexible manufacturing, warehouse and office space with an onsite ISO class 7 (class 10,000 cleanroom) and isolated area which is ISO class 5 (class 100 cleanroom). The cleanroom is equipped with a fume exhaust system as well as a particle measuring system used for the testing of material surface contaminants.
Select Fabricators, Inc.
5310 North Street
Building #5
Canandaigua NY 14424
Phone: 585-393-0650
Url: http://selectfabricators.rtrk.com
Contact:
Donna Hickling
Consultant
Email: dhickling@select-fabricators.com
More from Agricultural & Farming Products