US Government Agency Selects ETL's Versatile Vulcan Matrix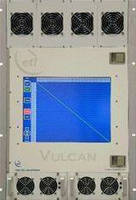 Virginia, USA – ETL Systems, a global designer and manufacturer of RF signal distribution equipment for satellite communications, today announced it will provide RF equipment to a large US Government Defence contractor.



This was a highly competitive bid and ETL was selected after providing a successful equipment demonstration at the agency's facility which showed the unique form factor and performance attributes of its Vulcan matrix system.



The Vulcan is a compact 16U high 128 inputs x 128 inputs distributive matrix with dual redundant power supplies and CPU's, and hot-swappable RF components. It also features remote control and monitoring facilities that give the user the ability to set alarms if any levels drop below pre-determined thresholds.



"It is a great honour to provide equipment for such a prominent US agency," said Susan Saadat, Vice President of ETL's North American Sales and Operations. "This further proves that our equipment is not only trustworthy and reliable, but also unique enough to stand out from the competition."



As well as the Vulcan matrix, which is installed at a location outside the U.S., ETL has been working closely with the customer to design a customized rack that will contain the matrix and auxiliary equipment, and the customer's preferred cabling system.



ETL is also providing an onsite Factory Acceptance Test (FAT) at ETL's UK facility in Hereford, along with lengthy training for the US government Agency. This will give the agency hands-on experience with the product and teach them troubleshooting strategies for seamless integration in to their system.



"Not only does ETL supply premium RF products, but we are also dedicated to ensuring customers have an excellent and stress-free experience with these products," said Ms Saadat. "Our Factory Acceptance Tests ensure the customer understands the equipment's full functions and operations while our in-depth training procedures make sure they can use the equipment to its full capabilities."



For technical information, please contact:

ETL Systems:

Kristy Taylor

+44 (0)1981 259020

kristy.taylor@etlsystems.com



About ETL Systems:

ETL Systems is privately owned and has been designing and manufacturing RF equipment since 1984. Its growing global presence accounts for 80 per cent of its total exports from the UK, where ETL is based.



ETL designs and manufactures professional RF distribution equipment for satellite ground stations and other microwave users. The product range includes L-Band Routers, Switches, Splitters, Combiners and Amplifiers covering DC-40GHz. Reliability, resilience, and RF performance are the core customer requirements which drive ETL's product innovation and development. Adaptability and scalability combine with these to provide future expansion.



With its dedicated in-house engineers based in Herefordshire, UK, ETL Systems has seen an average growth of 20 per cent in the last five years and has won three Queens Awards for International Trade.



More from Software