UPM RFID and Waldemar Winckel to Provide NFC Tags Through Touch2go Netstore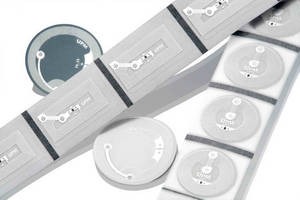 UPM RFID, Tampere - UPM RFID and Waldemar Winckel, one of Europe's leading RFID label manufacturers and system integrators, have entered an agreement on the delivery of UPM RFID's NFC inlays through the 'Touch2go' online netstore. For the NFC products available at www.touch2go.biz, Winckel uses reliable, high-quality UPM RFID inlays including UPM BullsEye(TM), UPM Circus(TM) and UPM RaceTrack(TM).

Touch2go enables small companies, start-ups and entrepreneurs to utilize NFC technology so they can take off with the fast-growing NFC ecosystem, introducing multiple NFC applications to customers interested in moving forward with NFC platforms. Depending on their needs, they can order various NFC products as self-adhesive or hang tags, posters, postcards or on-metal tags for marketing, loyalty applications or customer promotions. Through Touch2go, customers can purchase an extensive variety of NFC tag products, in small quantities or big volumes.

The NFC products from Winckel can be used across a range of application areas including brand protection, marketing, location-based services, loyalty programs and mobile payment.

Winckel also supplies NFC products from the 'identytag' series and offers consulting services for NFC solutions to companies under their 'identysys' business line.

"Everyone is talking about NFC. Many are asking how they can use this technology for their own purposes. Our new web shop is fuelling the development of NFC solutions. Anyone can afford our labels - even small restaurants, web shops or merchants. Tapping an NFC tag with your NFC device makes it possible to download websites, videos, music or specific product information - or simply information about the location or objects," comments Jörg Bald, CEO, Waldemar Winckel.

"These truly new possibilities, together with the continually growing number of NFC-compatible devices, phones and tablets, are transforming NFC into a wide-scale and fast growing technology platform. NFC is set to become the most interesting, 'touching', measurable and truly beneficial marketing tool for companies, regardless of their business size. Through Winckel's new NFC tag web shop and with the solution expertise they offer, this trend will be widely accessible by companies everywhere in Europe," explains Mikko Nikkanen, Business Development Director, UPM RFID.

For further information please contact:

Mr Mikko Nikkanen, Business Development Director, UPM RFID, tel. +358 400 766 979
Mr Jörg Bald, CEO, Waldemar Winckel, tel. +49 2751 924 216

About UPM RFID

UPM RFID, part of UPM's Engineered Materials business group, is the world's number one producer of HF, NFC and UHF radio frequency identification (RFID) tags and inlays. UPM RFID has a global service network consisting of factories in China and in the United States and a broad network of sales offices worldwide. The UPM Group employs around 24,500 people and it has production plants in 16 countries. UPM's annual sales exceed EUR 10 billion. UPM's shares are listed on the Helsinki Stock Exchange. Further information is available at www.upmrfid.com.

About Waldemar Winckel GmbH & Co. KG

Waldemar Winckel GmbH & Co. KG is a leader in the RFID tagging industry and has been investing in technologies for non-contact data transfer for more than ten years. As a member of AIM and EPC global, Winckel is working to implement international standards through active collaboration in various professional groups in order to increase future stability and quality. The company offers its customers and partners all the components of an RFID system from a single source, including hardware, software, consulting and in-house consumables. More information is available at http://www. winckel.de and www.touch2go.biz.

More from Electrical Equipment & Systems