Uni-Seal™ 6322: UV / LED / Visible Hybrid Low Shrinkage (Soft) Gasketing Sealant / Bonder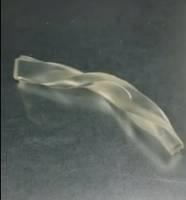 Incure Uni-Seal™ 6322 UV / Visible / LED light curable adhesive is an acid-free, low viscosity form-in-place / cure-in-place gasket (FIPG / CIPG). Cures very fast with low energy LED lamps for high volume production. High resilient (good memory retention) and high flexibility out-perform many gaskets provides air-tight sealing. Uni-Seal™ 6322 exhibits enhanced excellent moisture and temperature resistance. Widely used in electronics and automotive industry for its chemical resistance.
FEATURES
Good Memory Retention
Good Vibration Absorption
Good Adhesion To Various Substrates
LED Curable
Tack-Free Single Component, 100% Solids, No Solvents
Elongation 560%
Low Water Absorption, Low Shrinkage
Air Tight Sealing
Available In Different Colours
Medical Grade Available
APPLICATION AREA INCLUDES
Sealing / Gasket For Parts Subjected To Vibration
Sound Damping
Liquid Gasket Caps
Hydraulic Fluid Sealant
Automotive Gasket For Headlamps
Time-To-Market Advantage
Incure products are made with customers' needs in mind. Most of our products ships within 5 working days and are available in 10ml syringe, 30ml syringe, 1kg bottle, 1 gallon pail, 2 gallon pail and 5 gallon pail. Incure also offers a wide-range of UV curing lamps to suit all bonding, coating, sealing and encapsulating applications. Please consult our Technical Service Team for more information or simply request for a technical data sheet. Email support@uv-incure.com
IncureConsult™
Take advantage of direct professional advice from Incure Product Development Consultant. IncureConsult™ embraces matching-chemistry in 3 simple steps:
Understanding your application, choice of substrates and test requirements
Recommending the most suitable adhesive and best-matched UV curing equipment
Establish a reliable and controlled manufacturing process
IncureDirect™
Provides an open channel for end-users to work directly with Incure on all applications. Quick and easy access to working solutions for all bonding needs. Minimizes indirect costs associated distribution channels. Faster turn-around for evaluation samples, coupled with enhanced confidentiality for customized solutions.
IncureLab™
Conduct your design-on-experiment (DOEs) with the use of Incure laboratory facility and equipment at a small fee. Easy access to a wide range of adhesives and coatings, curing lamps and testing equipment for your application needs. IncureRental™ Use of Incure curing equipment on weekly rental basis. Choice of purchase of curing system by offsetting rental charges at the end of trial period.
Collaborating with Partners
Incure Collaboration Programme (ICP) allows device component manufacturers and R&D centres tap on this platform to customise (UV and non-UV) bonding formulations for their customers' applications. Along with our partners, Incure fulfil the need for faster turn-around time in developing working bonding solutions to their applications.
Experience UV Technology
Experience UV Technology with us. Call us today and bring your parts. Our team of experienced Applications Development managers will guide you through the entire process at no cost. Pre-arranged Design-OnExperiments can be conducted at our facility.
Incure Inc.
1 Hartford Square,
Box 16 West, Suite C-3
New Britain, CT 06052, USA
Tel: (860) 748-2979
Email: support@uv-incure.com
More from Controls & Controllers