UltraFlex Induction Preheating Steel Bolts at 175°F (79°C) for a Heat-staking Process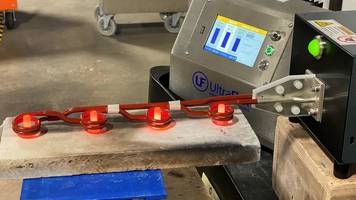 [Nov 25, 2020] A recent application setup by UltraFlex demonstrated the energy- and time-efficient simultaneous preheating of stainless steel bolts at 175°F (79°C).
The customer - an automotive manufacturer - reached out to UltraFlex looking to speed up their production times and increase productivity. They also aimed at achieving a more precise insertion of parts and automating the entire part preheating and insertion process.
The heating process required that the heat was evenly distributed between the four workpieces. The bolts also had to be heated in the thread sections, at 0.3'' (7.62 mm) outside diameter at 0.577'' (14.6 mm) thread length. Desired target temperature for the process was 175°F (79°C).
UltraFlex engineers considered UltraFlex UltraHeat SM induction heater as most appropriate for this induction heating case. UltraHeat SM is a compact 5kW induction heating system that operates with either a water-cooled or air-cooled remote heat station. It features advanced digital communication features which would allow for complete automation of the induction preheating process. Thanks to a custom-designed induction coil, the heat would be evenly distributed between the 4 heated pieces.
At a power output of 2 kW, it took mere 10 seconds for the 4 bolts to reach the target temperature. The system then automatically sent a signal to a robot, which picked the bolts up and brought them to an assembly.
The induction preheating process took far less time compared to traditional heating methods and allowed for full automation. By implementing the process on the line, the customer would achieve a drastic increase in productivity and a precise, consistent result every time thanks to the lack of operator variability. In addition, thanks to induction heating converting up to 90% of energy into heat into the part, the customer would incur only a fraction of the usual energy costs for the process. Finally, this would be a completely green process, with no smoke or toxic emissions.
Find out more at: https://ultraflexpower.com/
Contact us at:
+1.631.467.6814
uptnews@ultraflexpower.com
About UltraFlex Power Technologies:
UltraFlex Power Technologies (ultraflexpower.com) offers the most advanced and innovative digitally controlled induction heating equipment in the industry. Its compact modular and flexible systems are used for a wide variety of induction heating, casting and melting applications.
More from Electrical Equipment & Systems