UltraFlex Induction Heating Systems Successfully Forge Titanium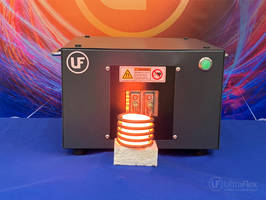 [May 13, 2020] The time- and energy-efficient heating of titanium to forging temperatures has recently been demonstrated by UltraFlex Power Technologies. UltraFlex - a leading provider of customer-focused solutions and equipment for induction heating, melting, and casting applications - set up this application test per request of a customer who was until then using traditional, slow and inefficient industrial-oven heating in this process.
To start the induction heating for the sample - a titanium billet of size 2'' x 2'' - UltraFlex used an induction heating system from their UltraHeat W series. UltraFlex UltraHeat W are advanced, cost-effective 5-15 kW induction heating systems configured to operate with external Heat Stations allowing output connections to be available from all sides.
Low frequency heating had to be used so penetration depth would be increased and the billet would be more efficiently heated. To ensure thorough heating, with the target temperature of 1750°F (954 °C) being reached even in the center of the sample, an infrared pyrometer was used for temperature monitoring.
At power output of 15 kW and using a custom UltraFlex induction coil, it took as little as 55 seconds to thoroughly heat the titanium billet. The induction heating ensured precise control over the time and temperature, resulting in improved quality and consistent results. Thanks to the cycle time induction heating, this was an energy-efficient and cost-efficient process. Finally, due to the lack of open flame, this was also a completely safe heating process - safe for the operator, safe for the environment.
Find out more at: https://ultraflexpower.com/
Contact us at:
+1.631.467.6814
uptnews@ultraflexpower.com
About UltraFlex Power Technologies:
UltraFlex Power Technologies (ultraflexpower.com) offers the most advanced and innovative digitally controlled induction heating equipment in the industry. Its compact modular and flexible systems are suitable for a wide variety of induction heating, casting and melting applications.
More from Material Processing