UltraFlex Induction Annealing Brass Ammunition Shells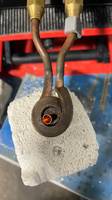 [Oct 9, 2020] The time- and cost-efficient usage of induction heating for the defense industry has recently been demonstrated by UltraFlex Power Technologies. UltraFlex - a leading manufacturer of digitally controlled induction heaters - had been contacted by a potential customer in the defense industry, looking to upgrade their existing induction heating equipment to boost efficiency on the production line.
The customer provided two sizes of brass ammunition shells for the test – bullet casings with 1.682" (42.7 mm) length and 0.929" (23.5 mm) length - and required a target annealing time of 0.6 seconds for both parts, using a single induction coil.
UltraFlex engineers considered the UltraFlex induction heater from the UltraHeat SM series as most appropriate for this heating scenario. UltraHeat SM is a compact 5 kW induction heating system operating with either water-cooled or air-cooled remote heat station. It features an adaptive digital phase control providing efficient operation in a wide frequency range.
The induction heating process was started by positioning the brass bullet shells into the coil and turning on the induction heater. The part to be annealed - which was two-thirds of the entire length - had been painted with Tempilaq paint to evaluate the temperature distribution and determine if the desired temperature in the annealed area has been reached.
The target temperature of 750°F (398°C) had been reached within as little as 0.6 seconds. The annealing process had been completed successfully, with the targeted time, which would allow the customer to achieve a more energy- and cost-efficient process compared to their current one. For the smaller part, the annealing was completed with 45% reduced power to prevent the overheating of the part.
This UltraFlex demonstration proved the resource efficiency of UltraFlex induction heating equipment for yet another customer application and the fast return on investment the customer would achieve when upgrading to UltraFlex systems.
Find out more at: https://ultraflexpower.com/
Contact us at:
+1.631.467.6814
uptnews@ultraflexpower.com
About UltraFlex Power Technologies:
UltraFlex Power Technologies (ultraflexpower.com) offers the most advanced and innovative digitally controlled induction heating equipment in the industry. Its compact modular and flexible systems are suitable for a wide variety of induction heating, casting and melting applications.
More from Electrical Equipment & Systems