UltraFlex Brazing Stainless Steel to Copper Tubes Using Induction Heating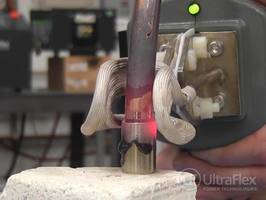 [Nov 19th, 2018] In a recent demonstration, UltraFlex Power Technologies - provider of advanced digitally controlled Induction Heating Solutions - evaluated how the brazing process for tubes can be optimized for manufacturing purposes using an induction heater.
In this customer-requested demo, stainless steel tubes had to be brazed to copper tubes, evaluating the performance of 2 different flux options. The customer needed minimum defects and as clean as possible brazing environment.
The brazing evaluation was performed using UBraze - an UltraFlex proprietary mobile induction heating solution that can be used as a hand-held unit or integrated with a robotic arm, in an automated production line. Power of 12.5 kW had been used to achieve the target brazing temperature of 1400ºF to 1600ºF (760ºC to 871ºC).
The test case showed that the entire brazing process, for each flux testing case, was completed within 9 to 11 seconds. Thus it took less than a minute for the customer to get the answers he needed to optimize the brazing process.
The induction-based brazing involves no flame, hence no specific environment was required to complete the brazing evaluation process. In addition, the ease of use of UltraFlex induction heating solutions means that when the brazing is done on the production line, the operator training for this brazing setup would be minimal. This is yet another benefit that adds to the time and energy efficiency of the induction brazing process.
Find out more at:
Contact us at:
+1.631.467.6814
uptnews@ultraflexpower.com
About UltraFlex Power Technologies:
UltraFlex Power Technologies (ultraflexpower.com) offers the most advanced and innovative digitally controlled induction heaters in the industry. Its compact modular and flexible systems are suitable for a wide variety of induction heating, casting and melting applications.