U.S. Air Force Modernizes Laboratories with New TEGAM RF Power Standards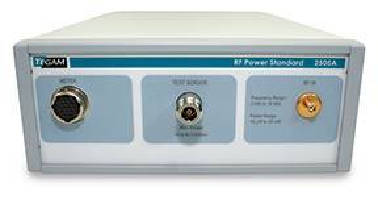 USAF increases cal lab capabilities and productivity while reducing support costs by implementing a simple calibrator upgrade



GENEVA, OH – TEGAM, Inc., a leading supplier of innovative RF power measurement technology, was recently awarded a contract with the U.S Air Force to provide 48 TEGAM Model 2505A 6 kHz – 18 GHz RF Power Standards to modernize RF power sensor calibrators used in the USAF Precision Metrology & Electronics Laboratories(PMELs).   These vital laboratories are responsible for the service and calibration of the wide range of test equipment utilized by the USAF around the world.



Each Model 2505A will replace two legacy RF power standards in their existing PMX series calibrators. With its wider bandwidth, each PMX system modernized with the 2505A will increase the number of RF power sensors that the PMEL is capable of supporting.



Because each 2505A replaces two legacy standards, the USAF gains two additional, and very important, benefits.  First, the calibration technician becomes more productive when he reduces the set-up time and number of cable changes required for each calibration.  Secondly, the USAF will have 50% fewer PMEL assets to support for the application, which reduces the workload, and associated costs, of the Air Force's Primary Calibration Laboratory in Heath, OH.



"These same benefits can be realized by any military or commercial calibration lab currently utilizing legacy TEGAM or Weinschel RF power sensor calibration systems" said Kevin Kaufman, Director of Sales, North America.



To learn more about the TEGAM's complete line of RF power standards, visit the TEGAM website.



Like all TEGAM products, their RF power meters are designed, assembled and tested in the United States.  TEGAM backs this durable instrument with a standard three-year warranty.



Contact TEGAM Inc.

For more information from TEGAM, Inc., visit the TEGAM website  contact TEGAM, Inc., 10 TEGAM Way Geneva, OH USA 44041, or call 1-440-466-6100.



About TEGAM

Headquartered just east of Cleveland, Ohio, TEGAM, Inc. specializes in the design, manufacture and support of a wide variety of test, measurement and calibration instruments. TEGAM is the worldwide leading manufacturer of RF power sensor calibration systems, for commercial and military applications. Founded in 1979, TEGAM has developed a wide variety of measurement instrumentation and markets its products around the world through a network of technical representatives and distributors in more than 40 countries. For more information visit www.tegam.com or contact Sales at Sales@tegam.com.

More from Machinery & Machining Tools