Two Prismatic Machining Centres to Be Launched by DMG / Mori Seiki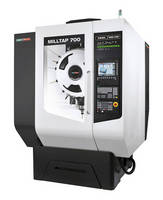 Following its world premiere last September at EMO 2011, the MILLTAP 700 vertical milling, drilling and tapping centre from DMG / MORI SEIKI will make its UK debut at MACH 2012. It is the group's first jointly developed machine and follows extensive market research carried out in world markets by the German and Japanese manufacturers.

To maximise the time that the spindle is in cut, the linear axes accelerate at 16 m/s² to feed rates of 60 m/min, complemented by a high speed tool changer that delivers a chip-to-chip time of 1.5 seconds. To achieve this performance, the complete drive for the tool magazine (which can hold 15 or optionally 25 cutters) is integrated into the two-axis (Y/Z) spindle head.

Process reliability and maintenance costs were taken into account when designing the MILLTAP 700. Its triangular bed as well as the static cover for the table's X-axis optimise chip flow and promote efficient swarf disposal. The cooling system may be positioned at the front or back, allowing the machine to be 30 per cent narrower compared with other manufacturers' equivalent machines, while the footprint is 10 per cent less at 4 m2. Overall energy consumption is said to be 30 per cent lower than that of other tapping centres.

Despite its compactness, the machine has a generous 700 mm by 420 mm work area and Z-axis travel of 380 mm. Ergonomic design affords good accessibility. The sturdy machine table and widely spaced linear guideways enable the machining of workpieces up to 300 kg.

The 25 kW, high torque spindle has a speed range up to 10,000 rpm as standard, optionally 24,000 rpm. Spindle head symmetry ensures extreme rigidity and high thermal stability. Machine rigidity is also helped by a C-frame design and use of robust castings. The user benefits with high surface quality of the workpiece and long tool life.

DMG and MORI SEIKI have adapted the Siemens 840D solutionline CNC with 3D programming software, integrated tool management, Sinamics 120 compact inverter and 10 inch monitor for the MILLTAP 700. Optionally, the machine can be equipped with the Progressline, which clearly displays the remaining process time and quantity of parts to complete an order. Expansion options are available for multi-axis machining and automation solutions.

Making its first appearance in the UK at MACH 2012 is the 5-axis DMU80 eVo FD vertical machining centre with integrated torque table for carrying out in-cycle turning operations. The machine was also introduced at EMO 2011.

It is one of four models that combine the flexibility of universal milling machines with the high performance of vertical machining centres. Features such as the swivelling rotary table and optional linear drives in the X and Y axes give these machines flexibility and high productivity potential. In addition, the optimised gantry design allows good access from above for loading components into the working area by crane.

The C-axis rotary table with large B-axis swivel range from -5 to +110 degrees allows considerable versatility during 5-sided or 5-axis simultaneous machining of workpieces weighing up to one tonne. Maximum figures of 10 m/s2 for acceleration, 80 m/min rapid linear traverse rates and 60 rpm rapids in both the B and C axes keep idle times low and production output high.

Employing linear motor technology, the direct-drive torque table fitted to the FD models provides the ability to turn at speeds up to 1,200 rpm in the same clamping, promoting short floor-to-floor times as well as top precision by avoiding having to reclamp the part.

The high specification includes a 30-position (optionally 60 or 120) tool magazine, 14,000 rpm (alternatively 18,000, 24,000 or 42,000 rpm) spindle, linear scales for axis position feedback and a space-saving pallet changer design. DMG's ERGOline control with a 19" screen and 3D software runs on either a Siemens 840D solutionline or a Heidenhain iTNC 530 HSCI platform.

1. The new MILLTAP 700 vertical milling, drilling and tapping centre from DMG / MORI SEIKI.

2. A typical component that is ideal for machining on the MILLTAP 700.

3. The new DMU80 eVo FD 5-axis vertical machining centre with integral turning capability.

DMG (UK) Ltd, Unitool House, 151 Camford Way,

Luton, Bedfordshire, LU3 3AN.

Tel: 01582 570661. Fax: 01582 593700.

E-mail: dianne.taylor@gildemeister.com

Web site: www.gildemeister.com

Contact: Richard Watkins, Managing Director.


More from Electrical Equipment & Systems