Two Carbell Kilns for Flow Control Refractories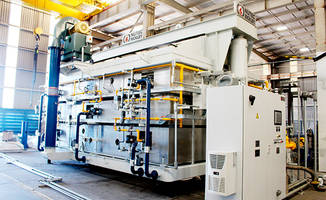 One of our clients wanted to increase its production, so it requested three new furnaces of the same size as already existing in its plant, optimized with the latest technology.
So we made the installation of kilns with greater capacity and more control zones with the following characteristics:
Operational temperature: 1,600ºC (2,910ºF)
Maximum operating temperature of 1,700ºC (3,090ºF)
ALuminum bubble brick insulation
Tongue and groove insulation
High velocity burners
Ceramic fiber lining exhaust flue
We chose to supply two kilns of greater capacity, instead of three at the previous size, this allowed the client to increase production capacity by 50% with the following benefits:
More control zones (nine zones instead of two) were added for better process control.
Lower initial investment, since the client already had a PLC and control panels.
One of the furnaces was equipped with an afterburner to process combustion waste gases.
Tangential burner fire lanes to increase heat transfer.
Equipped with 'fuel only' system, which permits better temperature uniformity by adjusting the control parameters to head more efficiently.
At Nutec Bickley we are experts in the installation and customization of firing systems for all kinds of industries. Come to us if you are interested in a complete solution or if you need to update your current equipment.
More from Mechanical Components and Assemblies