TVU Networks Receives NewBay Best of Show Award at 2018 NAB Show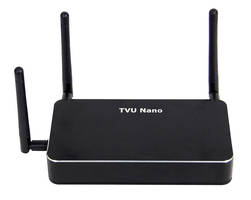 The TVU Nano with Router marks company's eighth straight year of product award recognition
MOUNTAIN VIEW, CA – April 19, 2018 – TVU Networks, the global technology and innovation leader in live IP video solutions, has been awarded a NewBay Media Best of NAB Show Award. The company was honored with the award from TV Technology at NAB last week for its new ultra-compact, lightweight TVU Nano with Router. Ideal for economy minded users with high-speed network access needs, TVU Nano uses TVU Router as a network accelerator to deliver incredible Internet anywhere. Featuring the company's proprietary Inverse StatMux Plus (IS+) and data transmission technology, TVU Router delivers highly reliable best-in-class high-speed Internet connectivity from any location. When traditional wired access is unavailable, TVU Nano with Router solves this challenge by providing access.
"TVU was excited to present its latest innovations at the NAB Show, and we're so pleased that TV Technology has recognized TVU Nano with Router as one of the stand-out products at the show," said Paul Shen, CEO, TVU Networks. "The solution is useful for a wide variety of scenarios - any application where dependable, high-speed bandwidth is needed in remote locations."
TVU Nano with Router provides users with maximum reliability and flexibility. TVU Router's unmatched high bandwidth IP connection works by aggregating and maximizing the use of multiple available communication links to ensure true channel aggregation – including 4G/LTE cellular, cable, satellite, Ethernet or WiFi - resulting in higher available bandwidth and network acceleration (up to 200Mb/s). For cellular connections, Router goes beyond basic load balancing and channel switching with support for multiple 4G/LTE connections from multiple carriers to power even the most demanding and data-intensive applications anywhere. TVU Router also features hotspot functionality for multiple user support.
TVU Router is compatible with high-speed file transfer applications, including Aspera and File Catalyst, for even greater performance. With a diversified WAN connectivity, network stability is maximized with TVU Router, while failure risk is minimized.
TVU Nano with Router allows up to three embedded modems. Powered by a rechargeable internal battery and equipped with antennas, TVU Router can be used in the field, carried, or mounted in a vehicle. With quick set up, easy configuration, and a variety of portable carrying and mounting options, TVU Router offers rapid deployment.
NewBay's Best of Show Awards are evaluated by a panel of industry experts and are selected based on innovation, feature set, cost efficiency and performance in serving the industry.
TVU Networks has over 2,500 customers in more than 85 countries. The TVU Networks family of IP transmission and live production solutions gives broadcasters and organizations a powerful and reliable workflow to distribute live video content to broadcast, online and mobile platforms. TVU has become a critical part of the operations of many major media companies. The TVU Networks suite of solutions has been used to acquire, transmit, produce, manage and distribute professional-quality live IP HD footage as an integral part of news, sports and major global events. For more information about TVU Networks solutions, please visit www.tvunetworks.com.
Social Media Links:
TVU Networks on Twitter
TVU Networks on Instagram
TVU Networks on Facebook
TVU Networks on LinkedIn
TVU Networks on YouTube
 About TVU Networks®
TVU Networks® is a technology and market leader in IP-based live video solutions. TVU's solutions help transform broadcasters' SDI-based operations - which include acquisition, transmission, routing, distribution and management - to an IP-based infrastructure. TVU® serves customers of all sizes in more than 85 countries from industries that include news broadcast, web streaming, law enforcement, sports, corporate and government. In broadcast markets around the world including the USA, China and other major economic powers, TVU® is the dominant market leader with a large majority of all news broadcast stations using its IP video solutions. Using its proprietary IS+ technology, TVU's uplink solutions use any combination of cellular, satellite, microwave, WiFi and Ethernet IP connections to deliver live HD video from practically any location.
Contact:
Robin Hoffman
Pipeline Communications
(917) 763-8069
robinhoffman@pipecomm.com
Related