Trend Toward Higher Quality Shelf Stable Products and Convenience Packaging Driving Sales of Allpax 2402 Multimode R&D Retorts to Flavor and Film Companies and University Food and Packaging Labs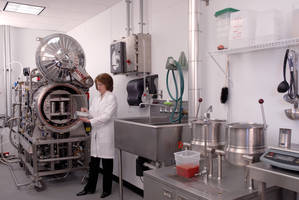 Emphasis on faster time to market for new products and packaging propelling Allpax sales of this R&D tool that offers all sterilization and agitation modes in one machine.
COVINGTON, LA — Allpax, powered by Pro Mach, attributes the continuing evolution of consumer preferences toward higher quality shelf stable products and convenience packaging to driving sales of its 2402 multimode R&D retorts. Highest levels of sales are to flavor and film companies and university food and packaging labs.
"Based on sales and feedback from customers, the pace of development for new formulations for shelf stable food as well as for convenience packaging has dramatically accelerated," said Greg Jacob, Vice President and General Manager, Allpax. "The versatility of our multimode retort makes it a much in demand tool for shelf stable innovations."
Longtime 2402 multimode user Erik Hassid, Technical Head Savory, Givaudan Flavors, a global leader in flavors and fragrances, said, "We run products in cans, pouches, and cartons pretty seamlessly in our lab. The 2402 certainly shortens our development cycles as well as those of our customers."
He explained, "When we go to a customer and say 'we've tested hundreds of different products in our system and have narrowed it down to these two or three recommendations,' the customer can move faster and go to market sooner, and Givaudan has provided a strategic service."
Bemis North America was the first film supplier to incorporate the Shaka agitation process in one of its new multimode R&D retorts. Jim Lamb, Senior Research Engineer, Bemis North America, said, "We have an interactive product development process with customers and are able to effectively test trays and films under simulated production conditions before those materials reach customer packaging lines, saving significant amounts of time. Having these advanced R&D retorts enables us to partner with our customers to develop processes that bring products to market faster, ensure food product quality, and improve overall throughput of customers' packaging operations."
2402 multimode retort
Each 2402 multimode R&D retort is customized to the specifications of the lab. One unit can offer as many or as few modes as the customer wishes. These units can be purchased or leased. Allpax even re-purchases units and refurbishes them for later re-sale. These multimode retorts can run saturated steam, steam air overpressure, water immersion, water spray, and water cascade processes in combination with seven easily changeable modular agitation modes — still, end-over-end, swinging, Gentle Motion shaking (low-speed), The Shaka (high-speed), hydrostatic simulation, and axial rotation. These units accommodate cans, bottles, pouches, cups, trays, metals, glass, plastics, and double seam film and foil closures and are ideal for testing flavors and films.
These retorts are equipped with the production version of the Allpax control software, which is 21 CFR Part 11 compliant for recipe editing, batch logs, and security functions. The Allen-Bradley PLC-based HMI makes switching between sterilization processes fast and easy, creating an almost infinite number of processing possibilities as manufacturers look for optimum efficiency, quality, and taste. Utilization of production software streamlines the process of scaling up from the lab to the production facility.
For more information on the 2402 multimode retort, call 1-888-893-9277 and visit www.Allpax.com for a complete look at production retorts, retort room automation, aftermarket support, and refurbished units.
About Bemis
Bemis Company, Inc. works collaboratively with forward-thinking customers to deliver inspired food, consumer, and healthcare packaging that enables customer success. Bemis Company, Inc., is a global packaging company with 60 facilities and 18,000 employees worldwide, including 30 locations in North America. The Bemis Company Foundation is a 501(c)3 nonprofit organization established in 1959. More information is available at www.bemis.com.
About Givaudan
Givaudan is the global leader in the creation of flavors and fragrances. In close collaboration with food, beverage, consumer product and fragrance partners, Givaudan develops tastes and scents that delight consumers the world over. With a passion to understand consumers' preferences and a relentless drive to innovate, Givaudan is at the forefront of creating flavors and fragrances that 'engage your senses'. The Company achieved sales of CHF 4.4 billion in 2015. Headquartered in Switzerland with local presence in over 80 locations, the Company has more than 9,500 employees worldwide. Givaudan invites you to discover more at www.givaudan.com.
About Allpax Products
Allpax Products, a market leader in retort technology and retort room automation, designs, manufactures, and delivers turnkey sterilization solutions for the food, beverage, pet food, and pharmaceutical industries. The company is recognized for helping customers become more successful by decreasing time to market with laboratory retort equipment, lowering overall labor costs through automation, and increasing the overall throughput of the sterilization process. www.Allpax.com.
About Pro Mach
Pro Mach is a leading provider of integrated packaging and processing products and solutions for food, beverage, consumer goods, pharmaceutical, and other diverse companies. Through multiple brands, Pro Mach provides product packaging and processing equipment, PMMI certified trainers, installation, parts, and service in Bottling & Capping, Primary Packaging, Pharmaceutical Packaging, Flexible Packaging, Material Handling, Labeling & Coding, and End of Line, as well as Integrated Solutions for complete packaging lines.
Pro Mach has a diverse customer base, from Fortune 500 companies to smaller, privately held businesses worldwide, which depend on reliable, flexible, technologically advanced equipment and integrated solutions. Pro Mach is headquartered near Cincinnati, Ohio, with manufacturing facilities and offices throughout the United States, Canada, Mexico, Europe, United Arab Emirates, and China. For more information about Pro Mach, please visit www.ProMachInc.com.
More from Electrical Equipment & Systems