Toshiba GE Turbine Components Purchases Second MAXOS Measurement System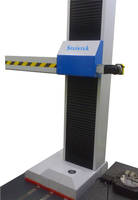 (May 6, 2009) - NVision, Inc. is pleased to announce the purchase of a second MAXOS non-contact measurement system by Toshiba GE Turbine Components (TGTC). In 2008, TGTC purchased its first MAXOS, which helped the company reduce the time needed to inspect and measure turbine blades by 83%, from 280 minutes to 45 minutes. "The MAXOS provides the best possible accuracy, eliminates the need for matt coating, and easily integrates with our engineering and production processes," said Tomio Kubota, President of TGTC. "It is also significantly faster than any of the other systems we had originally considered."

TGTC is a joint venture that combines the cutting-edge production expertise of Toshiba and General Electric to produce large blades ranging from 26 to 52 inches (660 to 1320 mm) for steam turbines. The company's annual production of blades is sufficient to generate the equivalent of eight to ten gigawatts of electricity. TGTC is sited within Toshiba's Works in Yokohama, Japan and produces long blades. A turbine bucket is comprised of an airfoil and a root. The long blades built at Yokohama have mid-span geometry that provides support for the midsection of the airfoil. The complex geometry of these blades means that many cross-sections must be examined.

TGTC previously used a coordinate measuring machine (CMM) to inspect the blades but found that it was too slow and often unable to access hard-to-reach areas such as dovetail hooks and fillets. As a result, it typically took longer to inspect the blades than to make them.

The MAXOS uses a proprietary non-contact probe consisting of a concentrated light that collects individual points at a rate of 100 per second, many times faster than a CMM. Unlike laser or white light fringe scanners, the MAXOS can inspect turbine blades without having to apply a matt coating that introduces dimensional inaccuracy. The MAXOS uses five axes to reach every point on the blades and also generates specific and accurate measurements of critical areas. Resulting measurements are reported instantly and the need for additional manual inspection is eliminated.

The MAXOS provides accuracy of ±0.0004" and a resolution between measured points down to 0.0002" on this project. The system can be provided with a resolution as low as 0.0001". The MAXOS software is configured with an overall best fit of the measured geometry to allow a part with some error to fit within the overall tolerance envelope of the reference data. Win3DS Blade inspection software is configured to give fast results and different kinds of evaluations on mid-span, fillets, gaps and airfoils. Different best-fits are available, including Gauss and Chebyshev.

TGTC is extremely happy with the results delivered by the MAXOS and are in the process of implementing the system at their other facilities around the world.

The MAXOS is manufactured by Steintek GmbH.

For more information about the MAXOS, contact NVision at:

o NVision, Inc., 440 Wrangler Dr, Suite 200, Coppell TX 75019. Ph: 972.393.8000, Fax: 972.393.8002

o NVision, Inc., 28287 Beck Rd., Suite 3D, Wixom, MI 48393. Ph: 248.468.2525, Fax: 248.468.2528

E-mail: sales@nvision3d.com. Visit NVision's Web site at www.nvision3d.com.

More from Architectural & Civil Engineering Products