Topflight® Gives You the Freedom to Add MORE Text and Graphics in Less Space!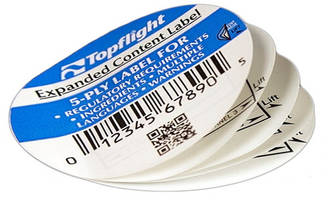 Glen Rock, PA - September 27, 2017 - Extended multi-ply, pressure-sensitive labels help customers meet the ever-expanding labeling and regulatory requirements established by the FDA, and expected by the consumer. Today, there is a greater demand for more extensive information on the packaging of products people are buying in every market.
Whether for the health & beauty market, food products, or for chemicals, multi-ply labels fit more text and content into a smaller footprint, allowing companies to comply with applicable laws without affecting package design or branding. Topflight continues to invest in broadening our offerings for expanded content labels to help alleviate the increasing pressure our customers are facing for more print space.
Communicate valuable product information
Provide important usage instructions and warnings
Translate information in multiple languages
UPC and 2D bar-coding for additional functionality
Rebate information and instant redeemable coupons (IRC)
Topflight Corporation is a leading manufacturer of pressure sensitive labels, shrink sleeves, die-cut components, conductive printing and brand security solutions for companies in the medical, health and beauty, electronics, and consumer & durable goods industries. Topflight is ISO 13485 and ISO 9001 certified, and has affiliates in South America, Europe and Australia.
More from Material Handling & Storage