TOLSA Showcases PANGEL® Series of Additives at American Coatings Show 2018 in Indianapolis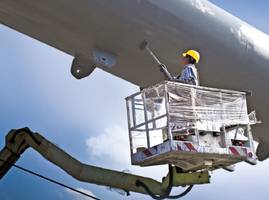 MADRID, Spain, February 27, 2018 – TOLSA, based in Madrid, a leading global supplier of specialized additives for the paints and coatings industry, will showcase its industry-leading portfolio of rheological additives based on high-purity sepiolite technology, at the American Coatings Show (ACS) 2018 (Booth #2265) April 10-12 in Indianapolis.
TOLSA will highlight its broad range of products and the performance of its high-growth U.S. additives business which has emerged as a formidable supplier to the paints and coatings market. TOLSA has built a strong foundation in the U.S. by producing unique additives for water-based and solvent-based systems. The company has experienced strong growth over the last several years and its long-term strategy is to expand its resources and capabilities with new investment in technology, manufacturing, capital, and personnel.
"With our broad product portfolio we are firmly positioned as a strategic supplier to the U.S. market," said Michelle Mercurio, sales director for TOLSA USA. "Our innovative technology has now been validated in the U.S. and we continue to see strong results as our products gain market share."
TOLSA has built a strong foothold in the U.S. market with sales and technical offices in Casper, Wyo. and a warehouse located in Addison, Ill. The company has a broad distribution network which includes partners such as MSullivan, TCR Industries, Chemo, and DarTech. TOLSA owns one of the largest and highest purity sepiolite mines in the world in Madrid.
At the ACS show, TOLSA will highlight the PANGEL® series of rheological additives for water-based and solvent-based paints and coatings. The product range is based on a wide variety of special clays, including sepiolite, attapulgite, montmorillonite, and saponite with each sharing the capabilities of easy build up, shear thinning, and thixotropic gel structures.
PANGEL® additives are composed of extremely high-purity sepiolite minerals. TOLSA developed the technology required for purification and production of highly efficient and very low-crystalline silica additives which are unique in the industry. These two key characteristics make them extremely good candidates as attapulgite additives alternatives.
A key feature of PANGEL® technology is its ability to yield fewer defects when incorporated into a coatings system, thus providing a competitive advantage for the end-user. PANGEL® products are characterized by the "3S" benefits they deliver: settling, sedimentation, and syneresis. They are particularly efficient in architectural and industrial coatings where solids content and filler density often drives strong variations in coatings stability.
Broad Product Portfolio Meets Market Demands
PANGEL® series products are sold as micronized solids. Their dispersion process is similar to that of other solid components of the formulation, ensuring an appropriate wetting of the product and application of sufficient mechanical energy (shear).
For water-borne systems, TOLSA offers the PANGEL® S series, produced from high-purity sepiolite with outstanding suspension and anti-sagging capacity unaffected by electrolytes. PANGEL® S9, a purified sepiolite, is one of TOLSA's leading products, offering high-shear thinning. It is normally used as a co-thickener with HEC or associative thickeners for improving syneresis and sedimentation and replaces attapulgite thickeners at half dosage. Other products for water-borne systems include the PANGEL® W series, specifically developed to enhance thickening and anti-sagging properties with water retention and excellent brushability, and the PANGEL® M series, produced from high-purity bentonite for easy gelling and dispersing capacity.
Products for solvent-based systems include the PANGEL® B series which are rheological organoclay additives based on high-purity sepiolite with extra performance and additional suspension capacity, anti-sagging, and homogenizing; and the PANGEL® OM series, rheological organoclay additives based on high-purity bentonite for easy incorporation. The PANGEL® OMD series consists of self-activated organoclay additives based on high-purity bentonite for easy incorporation into solvent-based systems.
TOLSA will hold a special customer reception during the show at the Hilton Indianapolis. Those interested in attending can contact industrial@tolsa.com.
About TOLSA
TOLSA is a longstanding global company specializing in the extraction and process of sepiolite, bentonite, and attapulgite clays. Our success is based on the complete integration of all key processes, which are carried out in the 12 countries in which the company operates. Clays are processed and manufactured for a variety of industrial applications including drilling muds, foundry castings, bleaching earths, and animal feed additives, among others. TOLSA has 19 logistic platforms that together with our 10 manufacturing centers and 11 sales offices provide a deep expertise. An international team of more than 850 highly qualified professionals from more than 18 countries ensures its leadership position in the special clays sector.
TOLSA's international scope allows it to offer a wide range of products throughout the world. The company focuses on intelligent production that is modern, efficient, precise, flexible, punctual, safe, and respectful of the environment. Each process is subjected to stringent quality controls and the company is certified under ISO 9000 and ISO 14000. TOLSA has a production capacity of more than 1 million tonnes and its factories are located near mining operations, or in port areas near end users. For more information, visit www.tolsa.com/industrial/en or email industrial@tolsa.com.
More from Electrical Equipment & Systems