Tianma's Mini-LED HDR and Micro-LED Displays Named People's Choice Award Winners at Display Week 2019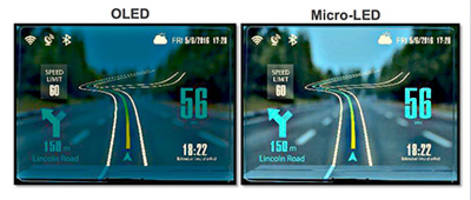 Chino, CA, May 24, 2019 – Two of The Tianma Group's advanced technology displays introduced at Display Week 2019 – the 7.56" Active Matrix (AM) Micro LED and the LTPS AM Mini LED High Dynamic Range (HDR) LCD – have been named winners of the show's prestigious "People's Choice Award" competition, presented by the Society of Information Display (SID). 
New for 2019, the People's Choice Award (formerly Best in Show) allowed attendees and exhibitors to vote for their favorite exhibits and products on the show floor in the following categories: Best New Display Technology (a panel, module, or finished product); Best New Display Component (a film, glass, touch element, or other component); and Best Technology Demonstration (the way the product or technology is shown on the floor). Tianma's 7.56" AM Micro LED won in the Best New Display Technology category, and the LTPS AM Mini LED HDR LCD was named a Best New Display Component.
"We are excited and honored that our products have been selected as People's Choice Award winners in this year's competition," said Eric Cheng, President and CEO of Tianma America. "This recognition is a testament to the talent, dedication and ingenuity put forth by the worldwide Tianma Group team."
Tianma's 7.56" AM Micro LED is the world's first Micro LED display with over 60% transparency and a resolution of 720*480 (114PPI), along with an ultra-thin border of less than 0.8mm (left and right). Compared to OLED, Tianma's Micro LED display is better suited for automotive applications due to its high image stability and longer life. The transparent Micro LED display is ideal for use in a HUD or car window application. 
Tianma's LTPS AM Mini LED High Dynamic Range (HDR) LCD is an advanced technology for mobile phone applications, capable of accurately reproducing life-like images comparable at a performance level to that of OLED technology. With the Mini LED driven by AM-TFT, this allows for an ultra-high number of local dimming zones (4,608). Tianma's LTPS Mini LED HDR LCD achieves the following performance benchmarks: dynamic CR 20,000:1~1,000,000:1; max. brightness of 800nits; minimal light leakage; and NTSC at 96%, making this an ideal solution for outdoor and high ambient light conditions.
For more information, contact Tianma America, Inc., 13949 Central Ave., Chino, CA 91710. 909-590-5833. info@tianma.com; www.tianma.com.
About Display Week:
Display Week is the world's leading event focused on emerging electronic display and visual information technologies – their advancement, integration into products, and commercialization. Display Week attracts attendees from the entire ecosystem of R&D, engineering, design, manufacturing, supply chain, marketing, sales and financial, as well as commercial and consumer end-user markets. It delivers unparalleled learning opportunities, market-moving trends, sourcing, roadmaps-to-market, and connections for career and business growth. 
About SID:
The Society for Information Display (SID) is the only professional organization focused on the electronic display and visual information technology industries. In fact, by exclusively focusing on the advancement of electronic display and visual information technologies, SID provides a unique platform for industry collaboration, communication and training in all related technologies while showcasing the industry's best new products. The organization's members are professionals in the technical and business disciplines that relate to display research, design, manufacturing, applications, marketing and sales. To promote industry and academic technology development, while also educating consumers on the importance of displays, SID hosts more than 10 conferences a year, including Display Week, which brings industry and academia all under one roof to showcase technology that will shape the future. SID's global headquarters are located at 1475 S. Bascom Ave., Ste. 114, Campbell, CA 95008. For more information, visit www.sid.org.
About Tianma America, Inc.
Tianma America (TMA) is the leading provider of small- to medium-size display solutions to the Americas market utilizing advanced technologies and manufacturing resources of the Tianma Group Companies, which includes Tianma Micro-electronics (Shenzhen and Shanghai) and Tianma Japan, Ltd. (formerly known as NLT Technologies Ltd.), as well as manufacturing locations in Chengdu, Wuhan, Xiamen, Shenzhen and Shanghai China. Tianma America technologies can be found in smartphones, tablet PCs, industrial and medical instrumentation, wearables, home automation, household appliances, office equipment, and automotive and rear seat entertainment devices. Additional applications include test and measurement systems, instrumentation equipment, point-of-sale and ATM systems, gaming systems, global positioning systems, radio-frequency identification devices and barcode scanners. 
Tianma America's technology portfolio comprises TFT, LTPS, Oxide-TFT, AM-OLED, flexible, transparent, 3D, PCAP and In-cell/On-cell integrated touch. With a network of best-in-class distributors and value-added partners, Tianma America provides complete display module solutions for a broad base of customers and applications. 
Media Contact:
Bill Maurer
Macrovision, Inc.
215-348-1010
bill@macrovis.com
More from Optics & Photonics