Sensors / Detectors / Transducers
Through Shaft Sensor Offers Position Accuracy in Harsh Conditions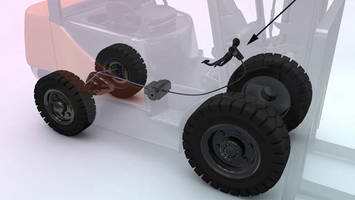 Brighton, MI – Piher Sensors & Controls' hollow shaft PST-360 Contactless Hall-effect Magnetic Sensor was designed as a reliable solution for maintaining accurate pedal or brake position in steer by wire applications. For on-road and off-road vehicles, this is particularly important as these vehicles demand accuracy even in the face of extremely harsh conditions.
The sensor's through-shaft technology is achieved by means of the mechanical design that allows it to wrap anywhere around the shaft, thereby enabling sensing directly at the source. This allows engineers to integrate a fully featured rotary sensor directly on their existing shafts without the packaging issues such as gears that typically accompany encoders or other through shaft sensing devices. With no mechanical interfaces, this type of 'clean' configuration helps obtain an accurate and precise output signal over the complete life of the sensor,, which is 50Mi cycles that includes IP67 protection sealing.
The sensor element is a rotating ring magnet. Internally, there are only two main non-contacting components - the magnet (the only moving component) and the electronics. Since the ring magnet never comes into contact with the sensing electronics, it has no sensitivity to dust or dirt and can therefore tolerate high vibration cycles.
The PST-360 was especially conceived for extreme environment applications in on-road and off-road vehicles such as tractors, forklifts, trucks, racing cars and many others.Customization is available in order to exactly meet customer need, such as hollow shaft dimension, voltage supply and electrical output.
For further information contact: joseluis.macia@meggitt.com, tel +1 34 948 82 04 50 (Madrid Spain Time Zone) peter.morgan@meggitt.com at +1 (810) 522-2155 (Eastern Standard Time ), email: piher.sales@meggitt.com; web: www.piher.net.
About Piher Sensors and Controls S.A.
Piher Sensors and Controls S.A., a Meggitt company, is a Spanish specialty manufacturer of position sensor and control solutions that serves the worldwide Automotive, Home & Building automation, Appliance, Industrial, Off-Highway, Marine and Medical markets. Piher offers both standard and custom engineered solutions using contacting and magnetic hall-effect contactless technologies that provide high performance in harsh environmental applications. Details are available at www.piher.net
About Meggitt
Meggitt, headquartered in the UK, is an international group operating in North America, Europe and Asia. Known for its engineering expertise in extreme environments, Meggitt is a world leader in the aerospace, defense and industrial electronics industries. www.meggitt.com
Contact information
Agency
Cia Communications, Inc.
Cynthia Guardia
Tel: +1 714 998 9255 (PST)
Email: cynthiaguardia@roadrunner.com
Piher Sensors and Controls S. A.
Peter Morgan
Tel: +1 (810) 522-2155 (Eastern Standard Time )
Email: piher.usa@mdeggitt.com
Jose Luis Macia
Tel: +1 34 948 82 04 50 (Madrid Spain Time Zone),
Email: joseluis.macia@meggitt.com
More from Agricultural & Farming Products