Thomas & Betts Teams with ABB to Offer Data Centers Safer, Selectively Coordinated RPPs and PDMs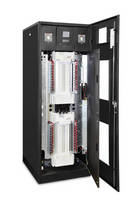 MEMPHIS, Tenn. – Thomas & Betts has joined with its parent company, ABB, to offer advanced remote power panels (RPPs) and power distribution modules (PDMs) for data centers to provide safer, more reliable and more easily maintained circuit protection than any competing RPP.



A leading manufacturer of data center solutions and now part of ABB, Thomas & Betts is incorporating the ABB ProLine™ panel board into its Cyberex® RPPs and PDMs to provide touch-safe, selectively coordinated, plug-in branch circuit breakers. Designed to protect operators from contact with live parts or circuits, ProLine™ features a pluggable breaker with the security of a non-energized, bolt-on connection that makes output replacement safe, fast and easy, while reducing component downtime.



The fully coordinated, current-limiting ProLine™ main and branch circuit breakers virtually eliminate nuisance tripping of the main/sub-feed breaker. In case of a fault, only the faulty branch circuit is disconnected, leaving remaining branch circuits and IT equipment unaffected. 



Furthermore, ProLine™ circuit breakers from ABB are among the industry's first UL current-limiting branch breakers. These specially designed breakers react much more quickly to electrical faults and significantly reduce the let-through energy, compared with standard, zero-crossing breakers on the market today. The capabilities that ProLine™ products offer help keep data centers running smoothly and safely.



"With current-limiting, fully coordinated breakers, as well as a touch-safe panel board, technology from Thomas & Betts and ABB is ideally designed for data centers," said Chad Smith, director, product management at Thomas & Betts. "ProLine™ panels in Cyberex® RPPs and PDMs make the operational environment safer for data center personnel, while enabling faults to be resolved more rapidly than any other available circuit-protection system."



Flexibility and future proofing also are inherent benefits of the Cyberex® RPPs and PDMs. Since the ProLine™ panel board incorporates design features, such as bus bars fully encapsulated in resin and non-energized breaker-mounting screws, arc flash potential is greatly reduced. Engineers can design electrical infrastructure to support multiple IT refreshes without the need for extended downtime.



More information about the integrated Cyberex®/ ProLine™ solution will be available at the Datacenter Dynamics conference in San Francisco on July 12. Visit booth no. 36 to see a Cyberex® PDM Slim on display. ABB will host an educational seminar during the conference, addressing solutions for such industry concerns as arc flash and selective coordination.



Thomas & Betts Corporation, a member of the ABB Group, is a global leader in the design, manufacture and marketing of essential components used to manage the connection, distribution, transmission and reliability of electrical power in utility, industrial, commercial, and residential applications. With a portfolio of more than 200,000 products marketed under more than 45 premium brand names, Thomas & Betts products are found wherever electricity is used. Thomas & Betts' headquarters are in Memphis, Tenn. For more information, please visit www.tnb.com.

 



More from Laboratory and Research Supplies and Equipment