These Poly Guard Casters Leave FOD in the Dust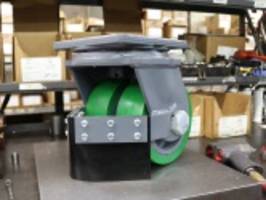 Foreign objects and debris, better known as FOD, are public enemy #1 on production floors. There's nothing a caster hates more than having its smooth-gliding mojo halted by a smattering of nuts, bolts and other unwelcome randos.
That's why we created a new Special Maxi-Duty Caster with Poly Guard. Equipped with a one-of-a-kind polyurethane brush, the caster clears away and prevents uninvited debris from embedding in its wheels as it rolls. The benefits? An uncompromised tread, a quieter ride and happier floors.
Hamilton recently designed this special caster - available on demand to our customers - for a large automotive company's Automatic Guided Vehicles (AGVs). These particular AGVs run on rather curvaceous tracks, so we gave the wheels a crown tread to reduce the contact load area and keep them from veering off course. And, we spec'd our extra thick one-inch Duralast® polyurethane wheels mounted with special poly guards to literally stop FOD in their tracks.
Hamilton Caster
1637 Dixie Highway
Hamilton OH 45011-4041
Phone: 513-863-3300
Url: http://www.hamiltoncaster.com/
More from Machinery & Machining Tools