Thermosystem Specialist Hotset is Expanding its International Project Business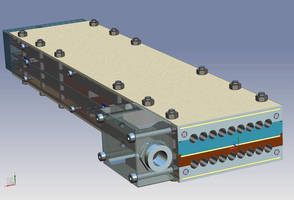 Thermosystem specialist hotset is expanding its international project Business.



Whenever temperatures called for in industrial processes and technical equipment have to be brought to a point-of-interest on time and with a high level of reliability, that's when hotset scores with its custom-design problem solutions. Our engineering experts are constantly creating an increasing number of tailor-made thermal products and systems over various industries and national borders. This is why CEO Ralf Schwarzkopf is excited by the dynamic development of hotset's subsidiary in India that was only set up two years ago.



These are factors such as process streamlining, energy efficiency and low-resource consumption that guides hotset's engineering specialists in their work. They develop thermal system solutions for customers in a wide variety of industries along these higher-level parameters. They all have one thing in common: the right temperature at the right time at the right place – with efficiency and reliable processes and in an accurately-controllable manner. This is always guided by major savings for the customer with state-of-the-art heating, cooling and tempering systems for streamlining its product-technology routines and sustainably enhancing the quality of its products. As you will be able to hear at the hotset Stand F52 at this year's Hannover Trade Fair 2016 (Hall 17), CEO Ralf Schwarzkopf sees this project business as one of the company's growth engines. Starting from its group headquarters in Lüdenscheid, Germany, hotset also is having success on any international scale with its subsidiaries in Asia and America.



• Successful in India



The project business of hotset's Indian subsidiary HIPL India Pvt Ltd. is especially dynamic these days even though it only went to the starting gate just a couple of months ago. That was September of 2014 in the Bidadi industrial area at the gates of Bangalore. Since it is in direct proximity to the production facilities of Toyota, Bosch, Carl Bechem Lubricants, Ingersoll Rand, JBM and GMT or also Coca Cola, it regularly generates orders for developing individualized technological system solutions in its project business. CEO Ralf Schwarzkopf says that "from a global perspective, India has risen to be one of the ten largest economies and it will soon be the third-largest consumer of plastics in the world." Especially because plastics processing is traditionally among hotset's strongest business segments, its engineering can contribute its full expertise to building cutting-edge system solutions for heating, cooling and precision-guided tempering of products and processes.



Beyond plastics processing, hotset also scores on a global scale with successful customer projects. For instance, they include large-scale foundries, small and medium-sized tool-makers and mold-makers or manufacturers of foil processing machines for the foodstuffs and packaging technology that take advantage of the experience of hotset's developers. This is how Ralf Schwarzkopf explains it: "We have expertise from many key areas of industry which puts us in a position to call up interdisciplinary know-how". This technology is based upon almost 45 years of experience in the design and manufacture of ready-to-install heating elements and system components including the matching sensor, regulating and controlling periphery. Our company will also be showing examples of various products at the Hannover Trade Fair at Stand F52 in Hall 17.



• Bilateral Teamwork



The international teamwork of hotset and its subsidiaries in America, China, Singapore, Malta and India functions in both directions. If one of the subsidiaries generates a customer project, the engineering and the solution to the problem is provided at hotset's headquarters in Lüdenscheid while in turn it is built on-site with technology in direct proximity to the customer. "Our subsidiary in India is ideal for this because it has the highly qualified employees and state-of-the-art production equipment to create flawless and competitive system solutions at a very low price," reports Ralf Schwarzkopf."



Apart from its international activities (including a wide variety of trade fair visitors in Asia and America), hotset's engineering also takes full advantage of the features of its technology network in Germany for its development and design work. The close partnership with the Lüdenscheid Plastics Institute and various Fraunhofer institutes is of critical importance.



Altogether, hotset is capable of launching the highest standard systems solutions on a high level of technical complexity and at attractive condition for customers in entirely different industries based upon its global production structure and the concentration of technology and engineering expertise at its Lüdenscheid location.



More from Material Handling & Storage