Thermal Product Solutions Ships Tenney Vacuum Space Simulator to Aerospace Industry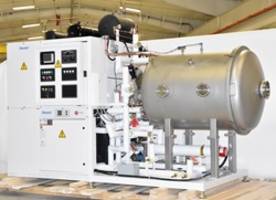 NEW COLUMBIA, PA. (PRWEB) MAY 29, 2018 - Tenney Environmental, announced the shipment of a vacuum temperature space simulation system. This space simulator will allow the customer to bring the testing of their products in house. The customer manufactures laser guidance modules for satellites and other space equipment that is used to assure precise locations of equipment while they are docking together.
The Tenney space simulation chamber utilizes a cascade cooling system and has a temperature range of -75°C to +125°C.
It is constructed with a thermal shroud and thermal platen which will perform the thermal conditioning function. This vacuum chamber has an extremely low maintenance dry roots style roughing pump and a turbomolecular high vacuum pump. The customer also requested a special LN2 trap which is used to attract any outgassed detrimental gasses to prevent contamination of their product.
"This type of space chamber is a fairly standard offering for Tenney and can be customized for each customer's unique process needs. This customer requested a glass port on the door of this space simulator which will be used to shoot a laser beam through for alignment testing of their product. After our start-up and training of the equipment, the customer was very pleased with the performance and equipment quality." – Rick Powell, Vacuum Products Manager
Unique features of this Tenney space simulation chamber include: 
Therma platen supports 200lbs. mass load
5.0 x 10-8 Torr vacuum range
-75°C to +125°C temperature range
Two (2) 5.0 horsepower semi-hermetic reciprocating type compressors
Start-up and training for operations team
Low maintenance roughing pump
Turbomolecular high vacuum pump
About Tenney Environmental 
Tenney boasts the most comprehensive line of standard and custom environmental test chambers and rooms in the industry. Known for innovative engineering design, robust construction, and superior performance, the Tenney line of test chambers is designed to meet all your temperature, humidity, altitude, vibration, and vacuum-testing requirements.
About Thermal Product Solutions, LLC (TPS) 
Thermal Product Solutions, LLC ("TPS"), is a leading American manufacturer of industrial ovens, furnaces, pharmaceutical sterilizers, laboratory ovens, environmental temperature chambers, and stability test chambers. TPS provides thermal processing and test solutions for a range of industries. TPS brands include Baker Furnace, Blue M, Gruenberg, Tenney, Lindberg, Lunaire, MPH, and Wisconsin Oven. For more information on equipment solutions from TPS visit the website at http://www.thermalproductsolutions.com.
Contact Information
Andrea Strand
+1 2622480288
Contact This Company Download Spec Sheet
More from Electrical Equipment & Systems