Thermal Product Solutions Ships Six (6) Inert Gas Cabinet Ovens to the Medical Industry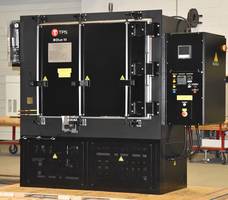 Thermal Product Solutions, a global manufacturer of thermal-processing equipment, announced the shipment of six (6) Blue M Inert Gas Cabinet Ovens to the medical industry. The cabinet oven design allows for low PPM oxygen levels.
These Blue M unitized ovens have a maximum temperature rating of 1100° F and work chamber dimensions of 48" W x 24" D x 36" H. The Blue M inert gas ovens were constructed from a structural steel frame that supports the 304-stainless steel chamber liner and the exterior cold rolled steel sheet metal. All interconnecting struts are non-continuous which keeps the exteriors cool.
These cabinet ovens utilize horizontal airflow, which maximizes heating rates and temperature uniformity of the product load. A circulation blower in a conditioning plenum chamber on the bottom of the oven directs air through a diffuser panel to flow horizontally across the product. The air exits the work chamber on the opposite side duct wall back to the heaters for reheating and recirculation.
"Blue M products are designed to meet the highest standards of performance specifications. These cabinet ovens required a low PPM oxygen level during the purge, heating and cooling process to eliminate oxidation."- Ashlee Kaczorowski, Blue M Product Manager
Unique features of these Blue M inert gas cabinet ovens include:
Watlow F4 temperature controller

High limit controller to prevent over heating

Electric heat

Special cooling chamber

Electro-mechanical door lock

NIST certificate of calibration at 1000°F

Lockable main power disconnect switch

CE compliant

RTD temperature sensors

Special reinforced floor to support 1000-lb load evenly distributed

Paperless recorder

Special language nomenclature

Trace oxygen analyzer

Special high temperature paint

Horizontal airflow to maximize heating rates

Light tower with alarm

MCPS-7000 software

Main power line filter
Contact This Company Download Spec Sheet
More from Agricultural & Farming Products