The Portable Gas Regulator/Small Cylinder Dilemma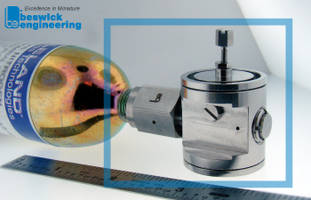 You are searching for a reliable way to reduce high pressure gas from a small cylinder to a much lower pressure. The large size and weight of conventional pressure regulators will negate the advantage of using a small gas cylinder (commonly in the 10 ml to 98 ml capacity range). What can you do to solve this seemingly intractable problem?
The Elegant Solution: The patented Beswick PRD3HP series regulator is the world's smallest 3-stage pressure regulator. It will accurately reduce an inlet pressure of up to 3,000 psi down to an outlet pressure as low as 0.5 psi. It weighs only 79 grams and is exceptionally compact (1.03 inches in diameter and less than 2 inches in height). Simply amazing! It was a finalist in Design News magazine's Golden Mousetrap contest.
Now you are probably wondering how you will connect the gas cylinder to the PRD3HP and how you will pierce the cylinder seal. No worries. The Beswick GCP series gas piercing fitting elegantly accomplishes both tasks. Think of the PRD3HP and GCP combination as the "dynamic duo".
The PRD3HP is commonly used in analytical instruments, toxic gas detection equipment, aerospace devices, medical equipment, food and beverage dispensing equipment, and agricultural research instruments. The size and weight advantages will be particularly useful to you if you are designing a portable device.
Gas cylinder companies, such as Leland Ltd., offer many types of gas cartridges to fit the requirements of your challenging application. Typical gases include: Carbon Dioxide, Hydrogen, Helium, Argon, Nitrogen, Compressed Air, Nitrous Oxide, and Oxygen.
The "PRD3HP" joins our extensive range of miniature pressure regulators. If the PRD3HP is not what you need then one of our other miniature regulators is likely to do the job for you.
Our "Basics of Pressure Regulators " technical paper is a good place to start if you'd like to learn about pressure regulators. http://www.beswick.com/basics-pressure-regulators
After you've determined which type of pressure regulator will work best in your product you can narrow your search using the product selection guides at http://www.beswick.com/pressure-regulators-design-selection-key
and http://www.beswick.com/regulator-selection-guide
E-mail us now if you'd like a copy of our catalog. If you have an immediate question you can reach a Beswick Applications engineer by calling 603-433-1188, e-mailing besales@beswick.com, or by conversing with one of our engineers via our website www.beswick.com
Leverage our 52 years (we've been at this for awhile) of expertise to solve your difficult application today.
Michael Donati
Beswick Engineering Co., Inc.
284 Ocean Road Greenland, NH 03840-2442 USA
phone: 603-433-1188
fax: 603-433-3313
e-mail: mdonati@beswick.com
web site: www.beswick.com
More from Sensors, Monitors & Transducers