The October Company Helps Medical Industry Relieve Storage Headaches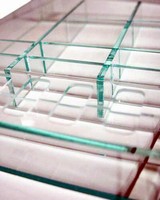 Easthampton, MA - September 2006

The October Company, known for providing unique storage solutions in the furniture and consumer closet markets, now offers the medical industry smart design solutions for the organization and storage of medical supplies.

The Company's patent-pending one-piece acrylic shelf dividers lend durability for storing medical products. October's innovative design replaces breakable parts with a more durable one-piece construction, making installation quick and efficient as storage needs for bulk items change. These dividers, available in glass green and clear acrylic, offer visibility and easy access to stored items. Standard sizes are 12" x 8", 12" x 5", 14" x 8" and 14" x 5".

For organization within existing drawer spaces, October offers interlocking acrylic slats. These simple, well constructed and versatile slats can be arranged in numerous configurations so storage space can be easily customized as needs change.

October also offers acrylic trays of single and multi-tier construction to meet the storage needs of today's medical professionals. Custom and standard sizes are available.

For nearly 50 years, The October Company has provided functional solutions for industrial storage and home organization with quality, service and experience.

For more information, visit www.octobercompany.com or contact The October Company at 1.800.628.9346 or at sales@octobercompany.com.


More from HVAC