The Hazards of Combustible Dust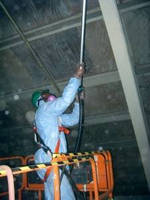 According to OSHA, one of the most hazardous materials found in industry today is combustible dust. What is combustible dust? Particulate matter generated during production and manufacturing operations that accumulates on surfaces, such as rafters and conduit, that are difficult to reach during regular maintenance. It has many sources, including metal, wood, coal, plastic, sugar, paper, and textiles. What is the hazard? If this dust becomes airborne, not only can it damage sensitive equipment and infiltrate work in process, it can present a serious fire and explosion hazard. Its removal is vital to workplace safety.

If a build up of combustible dust is found, it is essential to utilize professional cleaning services, such as ours at IMC. We are certified in combustible dust remediation and operate according to National Fire Protection Association (NFPA) standards. Please don't get out the shop vacuum, use a broom, or blow compressed air to try and remove it-that will only stir the particulate into a combustible dust cloud and create an even larger hazard. IMC technicians, wearing the proper protective clothing and armed with HEPA-filtered explosion proof vacuum cleaners, high reach equipment, and anti-static, spark-proof tools, can safely remove all traces of combustible dust from your facility. We won't leave until your facility is spotless and OSHA-safe, and we are happy to recommend a maintenance plan to keep your plant at a safe level of cleanliness.

Combustible dust is a very real hazard that can result in grave consequences. Don't let this happen to you. If you take a look around and wonder if your facility is at risk, contact IMC today and we will arrange to provide you with an assessment. Formore information, please call 1-800-220-6547 or visit our website www.imc.cc.


More from Health, Medical, & Dental Supplies and Equipment