The Gates Corporation to Showcase Newly Rebranded Industrial Hose Solutions at CONEXPO-CON/AGG and IFPE 2014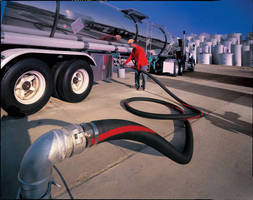 DENVER, Colo. – The Gates Corporation, a global, diversified manufacturer of industrial and automotive products, today announced it will be an exhibitor at IFPE 2014 during CONEXPO-CON/AGG, which will take place in Las Vegas, Nevada, March 4-8.



The hose and belt manufacturer will introduce its new industrial hose naming and color-coding system. The new structure uses descriptive, intuitive, and sensible names to streamline hose selection, reduce hassles, and help eliminate downtime. The company has created icons for each major industry category and a color to match. All Gates industrial hoses will henceforth be imprinted with new, color-coded laylines identifying the industry or application.



"Most of the product names in the marketplace today – including ours – are totally meaningless," said Gates Industrial Hose Product Line Manager Tony Widhalm. "You'll find products named after animals, insects, and everything in between. At Gates, we're rebranding our entire industrial hose product line to exist within 14 'family' names that identify the actual application like Chem Master™, Fuel Master™, Mine Master™, etc. And the new hose laylines will also be color-coded by product category for easy identification."



Gates will have more than 50 hose and belt experts on hand at IFPE and CONEXPO-CON/AGG to demonstrate selected hose solutions:

• MegaSys® constant pressure spiral-wire and wire-braid hose and coupling products that work together for leak-free assemblies, reducing costs by up to 64%.

• HotLine™ Selective Catalytic Reduction (SCR) hose assemblies that are designed to convey diesel exhaust fluid (DEF). The hose and couplings are electronically heated using Gates patented carbon fiber heating system, which allows for more uniform fluid heating compared to heated-wire designs.

• GC32-TSi™ hydraulic hose crimper, which includes Gates eCrimp™ database, Web access, a conversion calculator, diagnostic/repair videos, and advanced functions to ensure a quality hose assembly.



"We'll be showing our latest fluid power and power transmission innovations that are driving industry," said Mike Haen, Gates director of marketing. "We're excited to share our unique solutions and engage attendees with the fun, interactive activities at our booth."



Visitors to the Gates booth, which will be divided into four key areas: design, downtime, safety, and resources, will have an opportunity to control a powerful, custom-built, remote-controlled 1:10 scale model excavator to unearth a hidden prize.



To learn more, stop by Gates booth 80516 in South Hall 3 at IFPE during CONEXPO-CON/AGG, visit www.Gates.com/conexpo, or email marketing@gates.com.



About The Gates Corporation

The Gates Corporation is a global, diversified industrial company that provides advanced power transmission and fluid transfer solutions by engineering products and services that reduce the total cost of ownership for a wide variety of applications. Our products and services serve customers in five key end-market segments: Energy, Exploration & Extraction; Infrastructure & Agriculture; Transportation; Automotive; and Process & Specialty.



As an engineering leader with a strong foundation in research and development, Gates is committed to advancing the science of motion performance by developing safe, forward-thinking products, services, systems, and solutions, as well as fostering long-term customer and employee relationships. Headquartered in Denver, Colorado, Gates employs over 14,000 people across 106 locations in 30 countries.



If it moves you, there's a good chance Gates has a part in it. Gates. Powering Progress.





More from Thermal & Heating Equipment