The Best Thread Rolling Dies for Fasteners Will Be Hardened and Tempered in a Seco/Warwick Furnace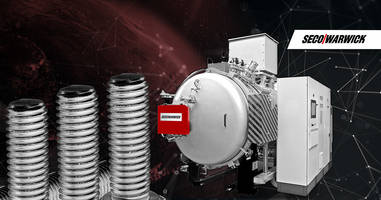 An Asian thread rolling die conglomerate has chosen SECO/WARWICK as a vacuum furnace supplier. The Vector® on order will be used for vacuum hardening and tempering fastener dies. This is the third delivery for this customer.
Tool production in vacuum furnaces
The Vector vacuum furnace on order features a compact design. The heating chamber's medium size (600x600x900) enables efficient simultaneous heat treatment of many types of parts. The characteristic feature of this design is directional cooling, which guarantees uniform cooling of all of the work inside the furnace, even those with problematic shapes. Vector is equipped with convection heating - a system that improves heat transfer efficiency during heating at lower temperatures. A round heating chamber with very good temperature distribution and an efficient and ergonomic vacuum pumping system are distinctive characteristics of this furnace. This solution is equipped with an efficient cooling system that ensures a maximum hardening pressure of up to 15 bar abs.
"Asia is an important market for us, where we have had our branch and production plant since 2010. The rapid development in the region was recognized by the Contract Heat Treatment Association (CHTA), which awarded SECO/WARWICK with the title of "Top 10 Brand for Customer Satisfaction." The fact that we can produce our furnaces directly at the location of companies from the FORTUNE GLOBAL 500 list, results in faster deliveries, lower costs, better logistics and, consequently, our Asian customer satisfaction," said Maciej Korecki, Vice President of the SECO/WARWICK Group's Vacuum Segment.
Flat thread rolling dies will be heat treated in a SECO/WARWICK furnace
This partner has been a well-known manufacturer in screw industry since [needs a date here ]. The company specializes in flat thread rolling dies, header punches, various bolt forming tooling and drill point dies. Thanks to 30 years of experience, innovative solutions and investments in the best technologies the Group's products are known worldwide.
For further business development, the customer needed to add a vacuum furnace that would allow treatment of tools for fastener production.
"Vector gives our customers the comfort of reliable production planning as well as great flexibility and independence. The parts produced must be of high quality, because they are subject to very high requirements in terms of quality, durability and precision. Thanks to the unique design benefits such as directional cooling, we can be sure that the final product will meet these high expectations," added Liu Yedong, Managing Director of SECO/WARWICK China.
Contact:
Katarzyna Sawka
Seco/Warwick Group
Marketing VP
Email: Katarzyna.Sawka@secowarwick.com
Tel: +48 512 811 648
Related