TENTE Central Locking Caster for Industrial Applications 3476/P67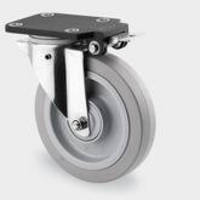 View a video introducing our new central locking industrial caster 3476/P67 http://www.youtube.com/watch?v=nor5boKSX1w.



TENTE continues to introduce innovative products, as the 3476/P67 caster to provide "Better Mobility. Better Life." to our customers. 



The 3476 swivel caster's housing is made of pressed steel, bright zinc plated, blue passivated, double ball bearing swivel head, wheel axle with nut, thread-guards, and a plate fitting with integrated central locking brake.  The wheel center is made of Polyamide, with a elastic-tread, non-marking and precision ball bearing.  Note, the brake pedal is attached to the mounting plate. The swivel mechanism is independent of the mounting plate. Therefore the brake pedal is always in the same position.



More from Agricultural & Farming Products