Telecom Manufacturing Company Makes Important Switch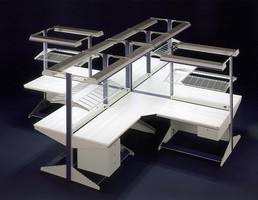 Lista modular workstations help company transition from a custom shop to a high-volume production facility

REDCOM Laboratories designs and manufactures what they call "Reality Based Telecom Switching Systems." Since 1978, this Victor, NY-based company has addressed real-world customer communication needs with high quality, reliable switching equipment - from patented digital switching systems, call management and emergency response systems to ISDN and testing devices, and more. But a few years ago, REDCOM realized that they had some real-world issues of their own, and they needed to make a new and very important switch - to new workstations.

The company, which recently has had great success manufacturing communications systems for both the commercial and military markets, has one of the largest manufacturing facilities in New York State's Ontario County. But this wasn't always the case. For years, the company was a high-mix, low-volume production facility and, with the help of some aggressive sales, the volumes of production increased. In order to meet the demand, REDCOM recognized that they needed to provide their assemblers, technicians and engineers with substantial upgrades in the quality of their workstations.

According to Steve Husband, Director of Manufacturing at REDCOM, they had always used home-made wooden benches for their workstations. Husband recalls, "These benches were not suitable for the work that needed to get done. They were deficient in many areas, including ergonomic comfort, lighting, and easy access to tools and parts. In order to accommodate our transformation to a tight, dynamic type of manufacturing facility, we needed to provide our assemblers and technicians with the right tools. We recognized that our old workstations could no longer meet our needs."

After interviewing three workstation manufacturers, REDCOM found their ideal solution with Arlink® 8000 modular workstations from Lista International Corp. The Arlink 8000 solution would provide the workers with ergonomic comfort, modularity, enhanced lighting and easy access to tools.

"For years we'd been working with Lista's manufacturing rep, Yankeetronics, as one of our main suppliers of capital equipment," Husband said. "They recommended Arlink 8000 workstations, and we could immediately see why - they were an ideal solution for our specific needs. After trying all the different options, our operators made Lista the overwhelming choice."

The three most important features of the Arlink 8000 workstations to REDCOM were modularity, ergonomics, and cost.

REDCOM is a relatively small, privately held company, so the bottom line is naturally always an issue. Modularity is important, because, according to Husband, "Our facility is dynamic, volume demands are always changing - we constantly need to move and reconfigure the workstations to accommodate specific lines and work cells. The Arlink 8000 modular workstation could be configured in just the widths and heights we needed, in what Lista called the 'Starter-Adder' system."

Ergonomics, according to Husband, could be seen in the Arlink 8000 in many different ways. "All of the Lista workstation's various components and options helped us to create custom benches that were attuned to individual needs," he explained. "We could offer well-positioned shelving, correct angles, seating, foot rests, computer monitor bracket swing stands and worksurface height adjustments."

REDCOM has incorporated shelves of varied widths to suit the range of bins and trays their employees utilize to keep the workspace free of clutter. Employees liked the Arlink 8000's Pelican® drawers, which give the assemblers a feeling of ownership in their work area as they can safely and securely store personal items in the drawers. These drawers, which mount under the worksurface and can slide to any horizontal position, allow easy clearance for workers' knees.

Husband is particularly pleased with the workstation lighting, which he says "overhangs at just the right distance and provides the employees with a nice bright work area."

He also addressed the importance of the workstations' static dissipative features: "We purchased a number of the static dissipative worksurfaces, as well as the electrostatic discharge (ESD) options like wrist straps and pads. This is particularly essential in the circuit board assembly area, as well as some other designated areas throughout the company. The comfort level provided by ESD production is very nice to have."

REDCOM actually purchased in excess of 100 benches, outfitting the entire facility with Arlink 8000 workstations, and according to Husband, each of them is different. He elaborated, "Some of them are stand-alone units, and some of them are used to form "X" configurations, with benches all fastened together at 90º angles. And there are a number of benches with casters that provide us with incredible mobility and, thus, flexibility."

Husband headed up the installation of the Lista benches, and was pleasantly surprised at the speed and ease of setting up REDCOM's new workspace.

"The ease of assembly was very impressive," he said. "The workstations were simple to put together. There was very little downtime, as far as setting up a new line or moving a line. And when we used the mobile stations to form a line, we could move the entire line all at once without having to disassemble it."

Since REDCOM implemented the Lista Arlink 8000 workstations, Husband has seen some clear improvements on the assembly floor. "We are able to sustain a higher level of work, with the same amount of personnel. The difference is tied to a combination of factors, but the workbenches play a substantial role in improved productivity."

Another very noticeable improvement at REDCOM is quite clear to the eyes of employees and customers alike. The assembly floor at this company is often used as a customer tour destination and a marketing tool. The sleek design of the Arlink 8000 benches has served to make this area a much more impressive stop.

"I can't put a number on how much business has increased due specifically to customers walking through our facility," Husband said. "But I can say that when customers or potential customers walk through the facility, the first words out of their mouths are, 'this is the nicest facility or the cleanest facility I've ever seen.' Our facility is truly impressive to look at, and the Lista installation is a big reason why.

"And the aesthetics of the Lista workstations is just as important for our employees," Husband concluded. "They are happier and more productive when they have a clean, attractive, ergonomic and comfortable place to work. It's nice knowing that we can look at our facility and say, 'this is what a manufacturing facility should look like.'"

More from Packaging Products & Equipment