Industrial / Specific Purpose Computers
Teguar Computers Used to Develop Vaccine for Coronavirus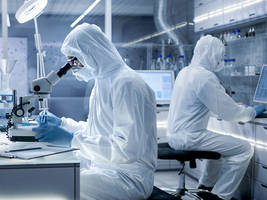 3/6/2020 - It is not often the world collectively faces a health threat like the Coronavirus. This virus threat has implications for Teguar in a few ways.
Teguar medical computers are on the front lines of the fight.
Teguar has been a part of the pharmaceutical manufacturing industry for almost a decade, and now has a chance to make a critical impact in a worldwide epidemic. A national medical research agency that produces vaccines and treatment drugs is quickly building a lab, which will be dedicated solely to fighting the Coronavirus. The agency, the name of which must remain confidential, asked Teguar to deliver a TM-5010-24 Healthcare Computer as soon as possible. The agency already had over 50 Teguar computers deployed in pharmaceutical labs across the country, so they knew the hardware worked for their application.
Not just any computer can be used in a pharmaceutical manufacturing environment. Harsh cleaning chemicals are used daily to wipe down surfaces; these chemicals would degrade the plastic housing of most computers. Computers also usually dissipate heat with a fan, which can push around microbes and contaminate the lab. The TM-5010-24 has a fanless cooling system and medical-grade housing that can handle strong chemicals.
Teguar was able to deliver the TM-5010-24 to the lab in under 24 hours. The request came in on March 4th and multiple departments coordinated and made this item top priority. The computer was pulled from inventory, checked, shipped, and delivered by the end of the day on March 5th. With the Coronavirus spreading quickly throughout the United States and the rest of the world, Teguar was happy to be able to help by processing this order in record time.
Teguar manufacturing in Taiwan is keeping steady.
The majority of the world's electronics are manufactured in Asian countries. This means that companies in the electronic hardware industry were some of the first to be see the economic effects of the coronavirus outbreak. Fortunately for Teguar and their customers, manufacturing in Taiwan is far less affected than manufacturing in China. While there are a few delays, by and large the Taiwanese tech community is faring well. Jonathan Staub, Teguar CEO commented that,
"Thankfully, [we] have seen minimal effects of the coronavirus threat to our manufacturing partners. Very thorough measures are being deployed to ensure the safety of employees, such as quarantines for employees who traveled to other Asian countries, work from home, and masks. Also, extra cleaning measures for facilities and products are being taken, including frequent sanitation wipe-downs."
Overall, since Teguar computers are manufactured in Taiwan, there has been minimal impact to Teguar compared to the sweeping effects on the tech industry at large. As always, customers will be a top priority and account representatives will work diligently to coordinate and communicate in the case of delays. In the coming weeks, Teguar will continue to do its part to provide mission critical coronavirus fighting equipment.
Contact This Company Download Spec Sheet
More from Services