TECGEN® Brand Showcases Its Latest FR Garments at the National Safety Council Expo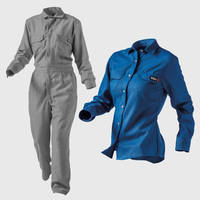 TECGEN® brand shares its expanded range of lightweight, breathable and moisture-wicking coveralls, shirts and jeans for men and women at NSC booth #2225.



Wichita, Kan.–- INVISTA's TECGEN® brand, an innovative manufacturer of flame-resistant (FR) fabric and garments, will exhibit its latest innovations in FR garments at the National Safety Council Expo (NSC) Sept. 15 - 17 in San Diego (Booth 2225). The TECGEN® brand FR garment portfolio features the lightest weight woven FR women's and men's uniform shirts and coveralls currently on the market*. The garments are dual-certified for NFPA 70E (HRC 2) and NFPA 2112 (Flash Fire).



"We are excited to showcase our products at the NSC Expo again this year - only this time, we have expanded our range of lightweight, inherent FR garment solutions with a line of functional options designed specifically for women," said Cindy McNaull, global INVISTA brand and marketing director. "Our women's line will be on display alongside our existing line of FR garments for men, both of which are engineered for cool, comfortable FR performance."



TECGEN® fabric creates an inherent, dual-certified garment that meets NFPA 70E and NFPA 2112 standards while delivering a soft, breathable, moisture-wicking fabric solution. The patented TECGEN® bi-component fiber - the basis of TECGEN® FR fabrics - features a carbonized outer protective shell for FR performance and an elastic inner core for pliability.



For more information about TECGEN® brand fiber, fabric and garments, please visit http://www.industrial.tecgen.com.



*2014 Market Study



About TECGEN® Brand

INVISTA's TECGEN® brand is an innovative flame resistant (FR) fiber, fabric and garment manufacturer of protective apparel. Its patented TECGEN® fiber was developed with next-generation FR technology and is primarily used in garments for manufacturing, transportation, mining, oil and gas and energy utility operations, as well as wildland and technical rescue firefighter applications.



TECGEN® FR apparel currently includes the lightest weight woven FR garments in the US market that are certified for NFPA 70E (HRC2) and NFPA 2112-2012 (Flash Fire). For more information, visit www.tecgen.com.



About INVISTA

INVISTA is one of the world's largest integrated producers of polymers and fibers, primarily for nylon, spandex and polyester applications, a business presence in over 20 counties, INVISTA's global businesses deliver exceptional value for their customers through technology innovations, market insights and a powerful portfolio of global trademarks including: ADI-PURE®, ANTRON®, AVORA®, C12TM, COMFOREL®, COOLMAX®, CORDURA®, CORFREE®, DACRON®, DBE®, DYTEK®, FRESHFXTM, LYCRA®, PERFORMATM, POLARGUARD®, POLYSHIELD®, POLYCLEAR®, SOLARMAX®, STAINMASTER®, SUPPLEX®, SUPRIVA®, TACTEL®, TACTESSE®, TERATE®, TERATHANE® and THERMOLITE®. More information on INVISTA can be found at www.INVISTA.com.





More from Fluid & Gas Flow Equipment