Data and Database Management Software
TDM Systems to Feature Tool Data Management Solutions at AeroDef 2019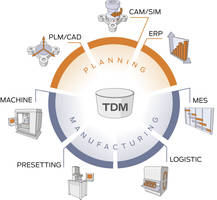 Schaumburg, IL –TDM Systems will showcase a variety of its Tool Data Management software and digital solutions and offer insights into its several new initiatives in smart manufacturing in booth 1444 at AeroDef 2019, April 29-May 2, 2019 in Long Beach, CA.
 The company's focus will be on developing solutions for the aerospace industry, while working on close partnerships with companies such as pre-setter, machine tool and CAD/CAM manufacturers. In addition, the company is one of the sponsors for both the panel discussion on "Manufacturing Production Harmonization" and the Porsche Experience Center Hospitality Night.
Dietmar Bohn, TDM Systems CEO said, "Our goal is to engage in conversations with industry leaders to emphasize the importance of digital resources to enable them to help manage their operations and provide the necessary 'tools' for their machining applications."
TDM will feature presentations on tool management software for CAM, shop floor management and data. Among its products are Tool Lifecycle Management, TDM Global Line and TDM Shopfloor Manager. The company will demonstrate how its latest software modules and cloud-based tooling can be used in a smart factory to record and manage production resources.
Tool Lifecycle Management is the solution for the entire tool life cycle in a company. Its focus is on linking and traceability and to become integrated into an existing system of a machining company. An integral part of Tool Lifecycle Management is its ability to provide processes for quality improvements within the aerospace industry. The company will showcase TDM Global Line. One of the highlights of TDM Global Line is the 3D tool assembly. TDM Systems will illustrate how simple it is to build the tools in 3D. TDM Systems will also demonstrate how this solution can be used to manage the tool crib efficiently. The Shopfloor Manager software module records the entirety of a tool's circulation, from planning for tool assembly, presetting and tool use at the machine, to disassembling.
For more than 25 years, TDM Systems has been the leading provider of tool data management in the machining industry. With the Tool Lifecycle Management strategy, TDM Systems is focusing on process optimization through optimal tool planning and provisioning. Creating and editing tool data and graphics, integrating tool know-how and 3D graphics into the CAM planning and organizing the complete tool cycle on the shop floor level are the three core competencies of TDM Systems. As a competence center within the Sandvik Group, TDM Systems draws on the expertise of various tool manufacturers in developing its software products. www.tdmsystems.com
For further editorial information contact:
Ed Szykula, KST Advertising & Public Relations
szykula@ksthip.com
More from Agricultural & Farming Products