TDM Systems Expands Shopfloor Management Under TDM Global Line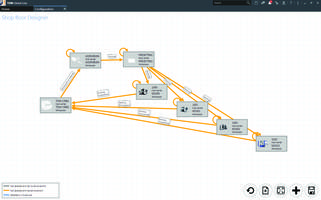 Schaumburg, IL— TDM Systems, a leading provider of tool data management systems for industry, and a software developer in the field of tool management, has expanded its Shopfloor Management under TDM Global Line. With the TDM Shopfloor Manager, the customer can individually build and illustrate the entire tool workflow on the shop floor.
"The days when a shopfloor had to adapt to rigid software are gone. Consistent and modular in design, the TDM Shopfloor Manager tool adapts to all circumstances in order-planning, configuration, as well as workflow for cribs, assembly, presetting, machine and secondary cribs," said, Volker Schwegler, Senior Product Manager at TDM Systems,
No matter whether the users are dealing with orders, individual workpieces or NC programs, everything is broken down into tool lists and each person involved in a process can view the precise information required for the specific task.
Schwegler added "Many companies combine tool assembly and presetting together in one tool room, for example, but with TDM Shopfloor Manager, the two areas can be combined to form a cost center and all actions can be combined into a single screen."
The software is freely configurable, without any need to adapt the programming. This flexibility also reduces an individual adjustment. At least 80 percent of user-needs can be covered as standard. However, too much flexibility could lead to faults if processes are compiled in the wrong sequence.
TDM Shopfloor Manager from is fully compatible with the stock management of the TDM Tool Crib Module Global Line. This means that even tool assemblies in secondary cribs and those near machines can be managed.
For more than 25 years, TDM Systems has been the leading provider of tool data management in the machining industry. With the Tool Lifecycle Management strategy, TDM Systems is focusing on process optimization through optimal tool planning and provisioning. Creating and editing tool data and graphics, integrating tool know-how and 3D graphics into the CAM planning and organizing the complete tool cycle on the shop floor level are the three core competencies of TDM Systems. As a competence center within the Sandvik Group, TDM Systems draws on the expertise of various tool manufacturers in developing its software products. www.tdmsystems.com
TDM Systems
1901 N. Roselle Suite 800
Schaumburg, IL 60195
847.605.1269 www.tdmsystems.com
 For further editorial information contact:
Ed Szykula, KST Advertising & Public Relations
szykula@ksthip.com
More from Agricultural & Farming Products