Sweco Announces Ecutec KGM Ball Mill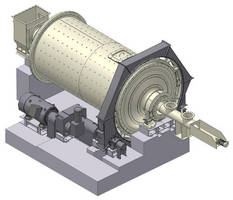 Florence, KY (January 2010) Sweco, a business unit of M-I L.L.C., announces the KGM as the latest in revolutionary ball mills designed by Ecutec and now marketed by Sweco as a result of the recent acquisition of Ecutec S.L. headquartered in Barcelona, Spain.

The Ecutec KGM Ball Mill has an extremely robust design ideal for the fine and ultra fine grinding of all types of minerals and ores. Engineered by Ecutec specifically with grinding efficiency in mind, the KGM can handle the entire range of soft, medium or hard products. It can also handle abrasive products with the appropriate selection of wear resistant lining and grinding media.

The KGM has several available installation, outlet and drive configurations depending on the application and mill size. Sweco and Ecutec also carry an extensive selection of specialty grinding media to optimize the performance of the ball mill specific to the customer's application. Together with Ecutec classifiers, the KGM provides a wide range of finenesses with top cuts down to d98 < 2 µm.

The KGM is the solution for fine grinding and classification of a wide variety of materials including, but not limited to calcium carbonate, dolomite, talc, bentonite, barites, coke, calcium oxide, aluminium oxide, silica and zircon oxide.

With more than 60 years of separation technology experience, Sweco serves the minerals, chemical, pharmaceutical, food, paper and many other industries with a complete line of separation, sizing and milling equipment. Visit the Sweco website at www.sweco.com or the Ecutec website at www.ecutec.eu to see the full line of products, or contact us at [email protected] or [email protected].