Sussex Wire Adds CNC Swiss Machining Capabilities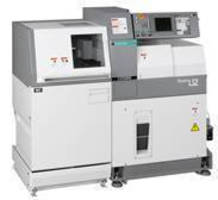 Easton PA – Sussex Wire announces the addition of new micro-miniature Swiss Machining services to complement the company's custom cold forming and roll forming capabilities. CNC Swiss Machining is ideal for manufacturing asymmetrical and complex parts in a single setup. The machine allows several operations to be performed at the same time instead of sequentially, which dramatically improves machine efficiency and reduces net part cost. Sussex Wire's new CNC Swiss machines will be used primarily for production work, but will also be available to create prototypes of complex components very quickly to help facilitate the customer's qualification process and time to market.



According to Tim Kardish, president of Sussex Wire, "The company's new CNC Swiss machining capabilities deliver a full complement of tight tolerance, complex geometry part manufacturing technologies under one roof. The addition of CNC Swiss Machining broadens our capabilities to meet our customers' product life cycle management needs. The expanded capabilities afford our customers the option, working with our engineering department, to select the most appropriate manufacturing technology to achieve their functionality, tolerance, quality and cost objectives."



To learn more about Sussex Wire's CNC Swiss Machining capabilities, visit http://www.sussexwire.com/cnc-swiss-machining.



About Sussex Wire, Inc.



Sussex Wire utilizes cold-forming, roll-forming and machining technologies to shape metal wire and specialty alloys at room temperatures into highly engineered, precision, micro-miniature components faster and in a more cost-effective manner than traditional machining, stamping, metal injection molding and casting methods can. The Company serves global blue chip customers who operate in the medical, electronics, connectors, computer, automobile, transportation, appliance, semiconductors, and glass to metal seal industries. Dozens of examples of custom parts are illustrated on the Company's website, www.sussexwire.com.



Sussex Wire is one of a very few companies in the world that can manufacturer miniature, precision, geometrically complex, cold forming of parts in quantities ranging from 10 million to over 1 billion per year. The Company has the ability to manufacture and form symmetrical and asymmetrical components from wire diameters of 0.0035'' to 0.250''.  The Company is ISO 9001-2008 certified.



More from Packaging Products & Equipment