Super Tough Cover to Protect Audible and Visual Signal Devices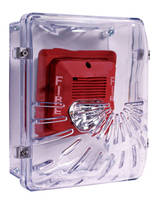 Protect Audible and Visual Signals from Damage

August 11, 2009 - The Horn/Strobe Damage Stopper® (STI-1210D) from STI helps protect horn/strobe units against vandalism and damage.

This virtually indestructible, UL Listed cover is slotted for horn/strobe units and has an open-backed spacer with conduit knockouts. It's molded of clear, thick, UV-stabilized polycarbonate material and backed by a lifetime guarantee against breakage in normal use. The slotted dome attaches to the frame with tamper resistant screws to help deter vandals, but will allow easy access for authorized service. If additional security is required, a tamper kit (SUB-84), is available. The polycarbonate is rated -40° to 120°F (-40° to 49°C).

Many other tough, clear spacers are available for larger horn/strobe applications, retrofits and weather resistant (strobe only) applications. Solid covers for strobe-only devices are also available (STI-1221A-E) as well as a heated model. Specially designed Enviro Kits are available for added protection against damage from water. Sound and light loss does occur. See website for more information on specific covers and performance reviews per manufacturer.

For more information on STI Horn/Strobe Damage Stopper (STI-1210D), or the entire Stopper® Line, call 800-888-4784, fax 248-673-1246, email info@sti-usa.com or visit www.sti-usa.com.

STI's address is:

2306 Airport Road, Waterford, MI 48327-1209.

More from Electronic Components & Devices