Sumitomo Introduces AC820P and AC830P for General Purpose to Interrupted Turning of Steels and Stainless Steels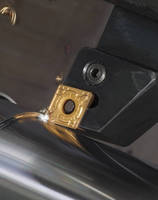 Mount Prospect, IL - (July 13, 2009) The Super FF coating (Fine and Flat) on Sumitomo's new grades AC820P and AC830P is not only more wear resistant than conventional coatings, it also reduces the possibility of chip adhesion due to its smoothness. Combined with newly developed carbide substrates, the AC800P series offers higher speed capabilities and a greater resistance to breakage than conventional carbide grades when machining steels and stainless steels.

The AC820P excels in general purpose machining and is available in a wide variety of chipbreakers, including the new high efficiency EGE. For interrupted applications, the AC830P is the first choice among P30 grades. Its exceptional toughness can sustain more impacts than conventional P30 grades.

For more information, contact Sumitomo Electric Carbide, Inc., 1001 Business Center Drive, Mount Prospect, IL 60056, Phone: (800) 950-5202, Fax: (847) 635-9335, e-mail: info@sumicarbide.com, or visit www.sumicarbide.com.

More from Explosives, Armaments, and Weaponry