Suffering from March Madness? Stay Protected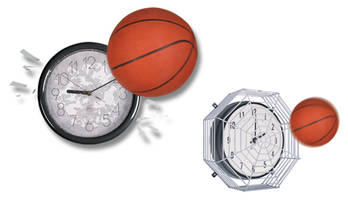 http://www.sti-usa.comMarch 21, 2017 – Do the students and general public in your area have March Madness fever? If so, make sure the clocks, bells, exit signs, and more in your gymnasium are protected from flying basketballs.
Constructed of 9-gauge tough steel wire with white or red corrosion resistant polyester coating, these guards offer great defense against vandalism and damage (accidental or intentional). Several sizes available.
As all STI protective covers, the cages are backed by a three year guarantee against breakage in normal use. Installation is simple with anchors and screws provided. To provide even greater protection against vandalism, tamper resistant screws and installation bit are available.
For more information on STI Wire Guards, or the entire Stopper® Line,
Call 800-888-4784,
Fax 248-673-1246,
Email info@sti-usa.com
Visit www.sti-usa.com.
STI's address is:
2306 Airport Road,
Waterford, MI 48327-1209.
Contact This Company Download Spec Sheet
More from Services