Success of the First AR24-D Line!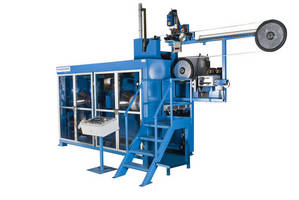 The first automatic dual head reeler AR24-D was successfully installed and commissioned in Poland. The AR24-D line includes a Payoff OW22, Palletizer SP24, PE film unit and Pallet conveyor. The AR24-D makes 2 reels per minute! All of the customer's expectations were met and they are very impressed and happy with this line.

The Auto Reeler AR24 is a single or dual head fully automatic reeler developed for automatic packaging of cable and wire products on spools or reels between 298-609mm (11.75"-24") in overall diameter. It can be run both in line application (direct connection with Extruder) and off line applications (AR24 is fed from Pay-off/Flyer) and loads and unloads the reels automatically and includes stretch wrapping of spool to contain the cut end.

Windak company will also show AR24-D machine at the Interwire tradeshow 2011.

Visit the booth 1940.

More from Mounting & Attaching Products