STMicroelectronics Insures Maximum Security for e-Government Smart Cards; Unveils Details of World's First Formal EAL6+ Certification for Secure Microcontrollers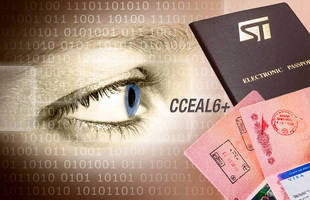 ST23YR80 supports latest security protocols and enhanced contact/contactless operation, surpass credentials of competing components

Geneva, May 10, 2010 - STMicroelectronics (NYSE: STM), a leading supplier of high-security smart card ICs for government applications, today demonstrated maximum protection for secure documents, such as ID cards and biometric passports. ST announced details of its formal EAL6+ Common criteria certification (ref 2010/01 and 2010/02) - the highest security standard applicable - for its ST23YR80 secure dual microcontroller, including its optional crypto libraries.

ST's IC is the world's first secure microcontroller to achieve EAL6+ according to the Common Criteria 3.1 methodology. Other processors have been accredited at lower levels or using less stringent methodologies. ST applied formal methods, which guarantee all states and transitions are known, from the beginning of the processor's design, resulting in formally proven high security with optimal ease of use and efficiency.

In application use, this EAL6+ certified device is capable of completing a secure passport transaction in less than 3 seconds using secure embedded software from Sagem Security, a hi-tech company in the Safran Group, called IDeal Pass(TM), which is the fastest competitive solution certified to EAL5+.

Practical benefits will include high productivity and security at border controls and short wait times for travelers. All e-passport norms are supported, including Basic Access Control (BAC) and Extended Access Control (EAC) using the highest crypto-key length. In addition, the ST23YR80 obtained a Certificate of conformity to ISO/IEC 14443 standard from SOLIATIS LAB: Reference SL.E.CER.0912.001.

Key features of the ST23YR80:

o Enhanced crypto-processor NESCRYPT

o Optional full feature certified crypto library High CPU clock frequency Dense on-chip memories:

o 80 Kbytes EEPROM

o 390 Kbytes user ROM

o 8Kbytes of Ram

o Enhanced contactless performances using ISO14443 type B interface

The ST23YR80 is in volume production now, and is available in wafers or in dual and contactless modules.

About STMicroelectronics

STMicroelectronics is a global leader serving customers across the spectrum of electronics applications with innovative semiconductor solutions. ST aims to be the undisputed leader in multimedia convergence and power applications leveraging its vast array of technologies, design expertise and combination of intellectual property portfolio, strategic partnerships and manufacturing strength. In 2009, the Company's net revenues were $8.51 billion. Further information on ST can be found at www.st.com.

More from Agricultural & Farming Products