Stelter & Brinck's Indirect Air Heater Earns Coveted USDA Certificate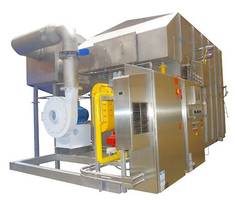 Stelter & Brinck is proud to announce that their Indirect Air Heater, model IAH-R-USDA, has been awarded an equipment certification from the United States Department of Agriculture (USDA) Dairy Equipment Review!
In order for the indirect fired air heater's design and fabrication to be considered for USDA acceptance, a USDA Dairy Plant Survey Program specialist visited S&B's facilities. After thorough evaluation of Stelter & Brinck's engineering drawings and equipment, the specialist granted Stelter & Brinck's IAH-R-USDA acceptable for use in USDA applications. Thus, dairy plants which require USDA complaint equipment can now benefit from the clean, hot air provided by Stelter & Brinck's USDA Indirect Air Heater.
The IAH-R-USDA provides high temperature capabilities and high thermal efficiencies to 90% by taking advantage of recirculated hot side combustion air. Packaged with the burner, hot side blowers, gas valve train, heat exchanger and controls, S&B's indirect air heaters arrive on-site prewired and pre-piped. Available in horizontal or vertical layouts and with low emission options, IAH-R-USDA units are designed to fit your plant's footprint and built to meet your construction standard requirements.
All Stelter & Brinck equipment is test-fired and tuned before shipment by their internal quality control team. On-site start-up and on-going maintenance of your process heat equipment is also available by Stelter & Brinck.
For over 90 years, Stelter & Brinck has been designing and manufacturing numerous types of industrial process heating & environmental equipment. Backed by their in-house engineering department, S&B field technicians provide various combustion services to industry. Stelter & Brinck strives to constantly improve upon their equipment and services, implementing the most current technologies, and always looking for new opportunities in the process heating industry.
For more information on Stelter & Brinck's IAH-R-USDA, call 513-367-9300 or visit: https://www.stelterbrinck.com/recirculating-indirect-air-heater.htm
Contact This Company Download Spec Sheet
More from Computer Hardware & Peripherals