Spray Foam and Adhesive for Bus, Truck, and RV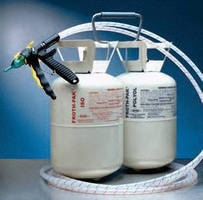 Rudolph Bros. is pleased to announce the availability of the Dow Froth-Pak urethane foam system. The Froth-Pak System has been used on a broad spectrum of vehicles from ambulances, boats, aircraft, RV, bus, van, truck, rail car to ice cream trucks and more. Each Froth-Pak comes with the patented Insta-Flo dispensing spray gun with anti-crossover nozzles which eliminates plugged hoses.

Applications include insulation, structural stability of framing, sound damping, vibration control, dust and air infiltration control and flotation.

Packaged for convenient application, Froth-Pak foam is tack-free in less than a minute so that the transportation vehicles can get on the roads, rails waterways or in the air faster.

More from Packaging Products & Equipment