Spheryx's xSight Selected as Finalist for the 2018 R&D 100 Awards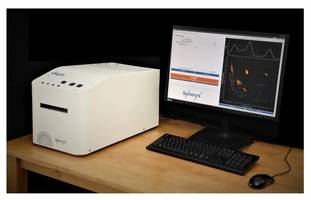 Spheryx's xSight, their new analytical instrument for particle characterization is a finalist for the R&D 100 Award that celebrates the top 100 revolutionary technologies this year.
NEW YORK, Sept. 6, 2018 /PRNewswire/ -- Spheryx, Inc. announced today that their xSight has been named a finalist for the 2018 R&D 100 Award. For the past 55 years, the R&D 100 Award has identified the 100 most innovative products annually, honoring R&D pioneers and their revolutionary ideas in science and technology. Spheryx's xSight was selected for its ground-breaking capabilities in particle characterization. Applications range from pharmaceuticals to semiconductors solving critical problems in manufacturing, quality control and R&D.
Panels of expert judges including consultants, university faculty members, and industrial researchers select the finalists and determine the winners. Previous winners include entries from Fortune 500 companies, National Laboratories, and smaller companies. This year's winners will be announced at a black tie gala on Nov. 16 at the Waldorf Astoria in Orlando, FL.
About Spheryx, Inc.
Spheryx, Inc. is a privately held analytical services and instruments company providing Total Holographic Characterization® of colloidal materials. Spheryx's proprietary technology uses holographic video microscopy to characterize each particle in colloidal dispersions and multi-component colloidal mixtures, offering unprecedented insights into these materials' characteristics. Applications include R&D, quality assurance and manufacturing process control across a broad spectrum of industries, where characterization of colloids can enhance innovation, improve safety and reduce costs. For more information: https://www.spheryx.solutions/
Contact:
Laura Philips, CEO
lphilips@spheryx.solutions
607-738-0100
More from Computer Hardware & Peripherals