Speedline's MPM® EnclosedFlow(TM) Printing System Eliminates Solder Paste Compaction Problems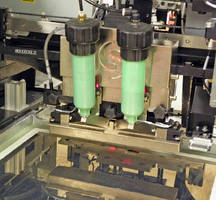 Franklin, Massachusetts, USA — Solder Paste compaction, a long-standing problem with pressurized enclosed media printing systems, has been eliminated with the MPM® EnclosedFlow™ printing system, it was announced today. The announcement follows a comprehensive program of exhaustive testing and customer production line evaluations. The EnclosedFlow was officially introduced to the market more than a year ago. Compaction of solder paste in an enclosed media system results, in part, from extended pressurization of the paste, combined with inadequate refreshment of the paste in vulnerable areas of the paste-containing enclosed chamber. Compaction results in poor printing performance, print defects, and costly waste, as the compacted paste is no longer usable and must be removed and replaced.



"The EnclosedFlow is designed with an innovative 'first in, first out' flow scheme for the solder paste," states Mark Clemons, Business Unit Manager – Printers. "EnclosedFlow is an evolved technology that originated with the successful MPM Rheometric Pump. We applied what we learned from our constant engineering evaluations and especially from customer feedback to this next-generation printing solution."



Simple in design and easy to clean, EnclosedFlow doesn't require manipulation or mixing of the paste inside the chamber in any way, Clemons points out. "More importantly, pressure on the paste volume in the supply cartridges is only applied when the chamber needs to be refilled. During production, a mechanical plunger applies a much lower pressure to the chamber volume only. This is significant, because by minimizing the time that paste is under pressure to only the times when it needs to be applied, and by keeping the paste moving forward and constantly refreshed, the potential for compaction is eliminated."



The MPM EnclosedFlow by Speedline Technologies is a revolutionary enclosed media printing technology that offers significant process and cost advantages over printing with metal squeegee blades. EnclosedFlow features an all new positive-displacement, motor-driven pressure system that controls paste chamber pressures to within +/- 0.1 psi, setting a new standard for tight process control, and delivering superior volume/yield on fine pitch pads. Print fine features such as 01005s and 0.3mm pitch CSPs with up to 50% greater volume and 25% lower deviation than squeegee blades. EnclosedFlow is also superb for high-volume fills such as paste-in-hole, where complete barrel filling is desired. EnclosedFlow generates paste savings in many cases in excess of 50% for a fast payback.



About Speedline Technologies

Speedline Technologies, a division of  Illinois Tools Works, Inc. (NYSE: ITW), is the global leader in process knowledge, services and manufacture of capital equipment used in the printed circuit board assembly and semiconductor industries.  Based in Franklin, Massachusetts, USA, with Electrovert manufacturing based in Camdenton, Missouri, the company markets four best-in-class brands:  MPM stencil and screen printing systems; Camalot dispensing systems; Electrovert wave soldering, reflow soldering and cleaning equipment; and Accel microelectronics cleaning equipment. For more information about Speedline Technologies visit www.speedlinetech.com.